Italian designer Gianni Versace once said, "do not be into trends, don't let fashion own you, but decide what you are". It is genuinely a great piece of advice to consumers because what you wear says (or should say) a lot about who you are and what you think. Nevertheless, image construction starts with the garments and accessories available, with the proposals made from designers and the fashion industry to the public.
On the whole, Argentinean design is still looking for a national identity. It has a lot of creative potential, even though it shows a great influence from Europe still. As previously mentioned here, Argentinean women are said to have an austere, elegant and sober look that originates in the old continent because of the impact of immigration during the 19th and 20th centuries and the lack of a "national design".
On the other hand, we must clarify that local fashion is relatively recent as an independent scene. It has been only thirty years since some universities opened a faculty of clothing design and the true research for unique style started just a few decades ago. With all of this in mind, we continue to outline what the choices are for Argentinean consumers.
A fragmented scene
To begin with, Argentina shows a vast commercial circuit of clothing. The biggest brands are following international trends, just to name a few:  Awada (a company owned by the First Lady Juliana Awada), Vitamina, Markova, Rapsodia and Grimoldi. These are all renowned brands, with a long history, leading the market with many stores across the country. Besides, there are also countless less prestigious small brands and they are considered fast fashion brands for their lower cost products and faster cycle of production.
Another fragment of the local fashion market is dominated by "author design" which consists of a group of emerging designers. Since 2001, they have been showcasing original, creative and innovative works. As a result, their products are a reflection of their own style and they came to be recognised as the fibre of national design by local critics. Brands such as Pablo Ramírez, Cora Groppo, Jessica Trosman, Martín Churba, Vero Alfie are among successful ones. According to a survey from the Centre of Investigation and textile development of the National Institute of Industrial Technology (INTI), there were as many as 273 fashion companies established under the author design concept in 2015.
In this market, more and more next generations of designers in author design are emerging. Their labels are relatively smaller because most of the creators are young talents. Even so, many of them have a positive prospective as the quality of their designs are well-recognised. For instance, Andrea Urquizu, Marcelo Giaccobe, Thalita ind. and Kalu Gryb, just to name a few. Even smaller brands are using Facebook and e-commerce to promote themselves and websites such as Under Boutique and Indibuy, are their powerful window to showcase their products.
Finally, there is a small number of brands working on sustainable and ethical fashion. They make the most effort to use recycled or organic materials in order to create sustainable, durable products that are both ecological and cruelty free products. This is an incipient but growing sector in Argentina. Nous Etudions, Content not found, Koshkil, Cúbreme, Paula Gray and Miist are the brands that belong to this category.
quote
'Fashion shows are also taken place in this intricate web of labels. In other words, multiple versions of fashion weeks are organised at the beginning of each season to showcase a various scenes of clothing and accessories design'.
WcMgcq
A reflection on the runway
Fashion shows also take place in this intricate web of labels. In other words, multiple versions of fashion weeks are organised at the beginning of each season to showcase various scenes of clothing and accessories design. As it is, the spectrum of designers is bound together in different events.
The most notable and the biggest event is Buenos Aires Fashion Week (BAFWEEK). It features commercial as well as author designers. Within the same event, emerging designers exhibit their products in a show called Pasarela BA. In addition to this, other activities are dedicated to exploring and promoting the local landscape. It is a week dedicated to design, creativity and inspiration, and therefore it is extremely popular among creatives as well as general public.
Another prestigious spectacle is Designers BA, a runway dedicated mainly to renowned author design. It is recognised as an opportunity to take a closer look at labels that represent Argentine design in its purest form.
Last but not least, Argentina Fashion Week serves as a display window for both commercial and local Prêt-a-Couture labels. Haute Couture does not exist in Argentina like the Parisian concept, as there is no commercial industrial structure that could produce luxurious garments entirely by hand. Furthermore, there is also no demand from local clients, as they have no such purchasing power to access these extremely expensive products.
'The power of consumers play a significant role to create a solid ground and sustain these brands, especially for emerging and author designers'.
The power of consumers
In conclusion, the Argentinean fashion market has a rich, competitive thriving scene. Although the country's economic crisis, high inflation rate as well as the deregulation of import are making the fashion market unstable, many brands are trying to overcome these problems. As a part of their strategy, many brands were forced to bring forward the sales seasons last year to increase the revenues.
The power of consumers plays a significant role in creating a solid ground and sustaining these brands, especially for emerging and author designers. If consumers were more aware of making a choice every time they buy clothes, a small act like carrying a shopping bag of an emerging brand could create a great opportunity to promote the sustainable ethical fashion brands. Each conscious consumer acts as a walking advert.
Like any other country's consumers, Argentineans tend to look out for cheaper priced products. Yet, the price may not always reflect the real value. In general, author design labels' creative or sustainable products are more expensive than commercial ones. However, there are usually many good reasons for this; a product may be more durable, the quality is generally better and materials are noble, sustainable or recyclable. It takes more time for creators to produce these products, as they may refrain from using some industrial materials taken by commercial producers. They do not make a large quantity and focus more on quality. Non-commercial designers spend more time to make a product; they care more. They pay more attention to each product and try to make the least waste possible. This is a priceless value that consumers should be aware of, and it is important for each of them to know why we should care.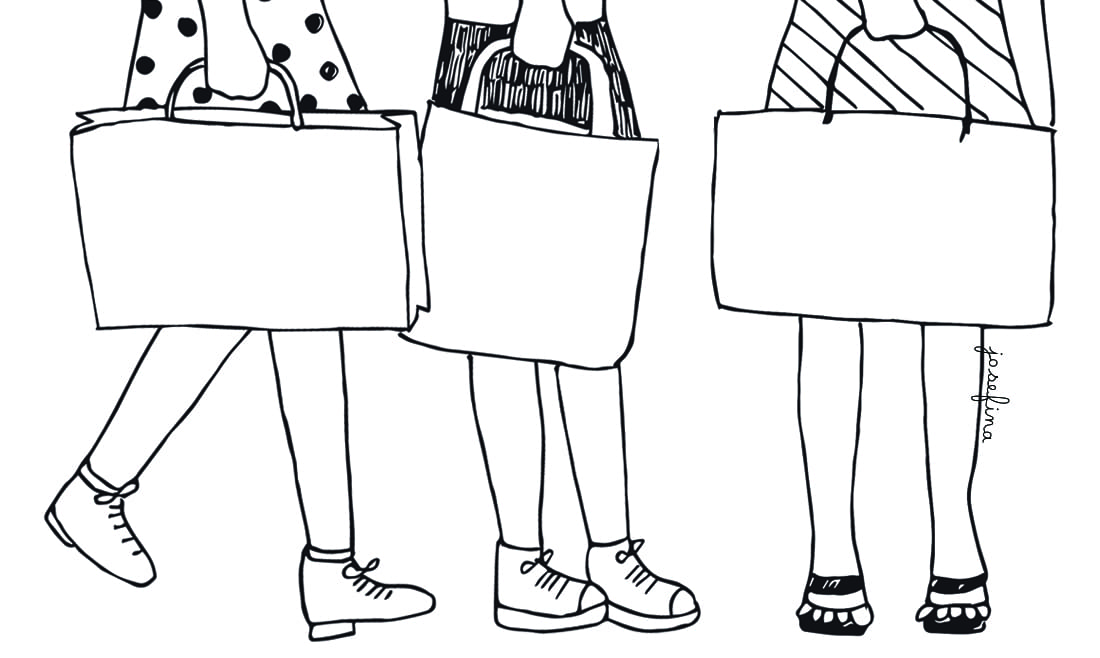 * Illustration created by Josefina Schivo Federico for Welum.