Buenos Aires has a peculiarity when it comes to Fashion Week. Due to the fact that there's actually an incredibly broad spectrum of designers on the local fashion scene, it is only natural that there were different events to bind them together. Consequently, there are several Fashion Weeks. One of the most famous is BAFWEEK, which features great levels of creativity from commercial, author and emerging designers, as well as other activities dedicated to exploring and showing the local landscape.
Another interesting event is Designers BA, a runway focused on author design. In other words, it gathers renowned creators that brush trends aside and are focused on developing their own identity through clothes. Ultimately, its importance resides in the opportunity to take a close look at labels that truly represent Argentine design in its purest form. The 10th edition of Designers BA took place in August and its line-up included shows from Tramando, Pablo Ramírez, Not to Be Understood by Jessica Trosman, Kostüme, and Fabián Zitta, amongst others. All of them were set in different locations simulating a fashion tour through the city. One of the youngest names of the program was Marcelo Giacobbe.
As an authentic porteño, Giacobbe was inspired to become a clothing designer by the city's architecture and art. "I think of my work as an encounter of different aspects of both femininity and masculinity. An impeccable tailoring and the transparency of lingerie, all of this in the search of a contemporary and urban prêt-à-couture", he declares on his website. His label pays special attention to details, applying craftsmanship as a means to achieve a refined garment.
This talented designer graduated from Buenos Aires University, was granted a scholarship at Saga Furs Design Centre in Copenhagen, and was a finalist in the Semillero UBA contest. He founded his eponymous brand in 2012, was given the Silver Scissors Award by the Argentine Chamber of Fashion for two consecutive years and presented his Spring-Summer 2014 collection at New York Fashion Week. His sophisticated pieces have been published in magazines such as Vogue, Brides US and Harper's Bazaar Argentina.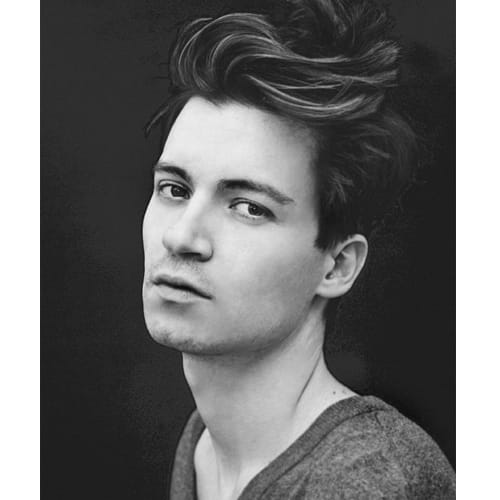 A graceful decomposition
Marcelo Giacobbe presented his collection for Spring-Summer 2017 at Designers BA on the 16th of August. The venue was the basement of the Museum of Contemporary Art of Buenos Aires (MACBA), a spacious room with concrete walls adorned with abstract art works. Chairs forming a geometric circuit were waiting for the audience, which included the public, press members and some local celebrities.
Ambient music from the 70s floated from the speakers as the models started descending in slow motion from the first floor, where the backstage area was held, through the building's ramps. Their makeup was nude, with glowing cheeks, although some of them had dramatic linear details on their eyelids. To complement their image, they wore sleek wet hair. JC Agency, by Jazmín Calcarami and her team, was in charge of both hair and makeup.
"In nature, beauty and decadence coexist as part of a sublime experience. As traces of something transcendent that we can't fully understand," read the press release. The collection was inspired by Hilma Af Klint, a Swedish painter who was a pioneer of Abstract Art at the beginning of the 20th century. Klint explored opposed concepts such as the visible and the hidden, the spiritual and the material, the feminine and the masculine. In order to achieve this, she made use of naturalistic geometry and symbolism.    
To translate this influence into the garments, contrasting playfulness was the common thread of the collection. A languid silhouette was created using ethereal fabrics such as silk muslin and satin, while volume and sharp edginess were added to other pieces with rigid materials. The colour palette swung from pastel pink, light blue and green to black and white. Sheer dresses clashed with metallic or matte textures in virtue of superposition. Delicate embroideries, laces, appliqués and feathers met chains, rough stones, wrinkles and torn endings. Furthermore, the overall sense of innocence in the looks was belied by a touch of sensuousness through plunging necklines and uncovered shoulders.
Giacobbe introduced a coherent collection composed mainly of cocktail and night dresses. With Klint's artwork as a compass, he made opposites meet in one figure. As it was stated in the release: "To deconstruct in order to construct, as a way of appropriating and unveiling what is vulnerable in everyone, is the operation that marks a story which oscillates between fantasy and reality".
[youtube https://www.youtube.com/watch?v=3sJC72mBFSA?rel=0&w=640&h=360]