I arrived at the studio, sat down on a sofa and read a traffic sign on the back of the entrance door that said "Smile and STOP complaining". Immediately feeling relaxed, I started to look around. There were clothes racks with tags on them, people passing by from one place to another, and I could hear a lot of them talking and working on preparations in different rooms.
Verónica Alfie is an Argentinean clothing designer and fashion consultant. Her eponymous label, Vero Alfie, creates high-quality garments with embellished touches that stand the test of time, in addition to accessories and décor. For the last spring-summer collection, One of a kind, made up of thirty-five unique pieces, she elaborated the garments with family heirlooms and noble materials gathered over the course of her journeys.
Alfie is co-founder of Visiones Trend Forecasting, the first trends lab in the region that gives a seminar on early consumers and provides services to other brands. As a result, she has a clear view of business and is in touch with the reality of the fashion market. We sat together in her luminous office and had a pleasant talk.
What was your introduction to fashion?
I graduated from El Salvador University, where I studied Scenography and Costume design. I loved fashion and clothes but there wasn't a degree available at Argentinean universities. On the other hand, I decided to start working when I was nineteen years old. A partner and I used my father's fabrics to create garments. We visited the brand we thought to be the best at that time and it placed an order. We couldn't believe it! We started selling our clothes to other brands and I never stopped from that moment on.
How did working for commercial brands affect your career?
I had always known that I wanted to create my own brand but it is not the same when you have worked for others for fifteen years, seen how everything works and realized that design is just a small part of business, rather than if you start from scratch with that same goal. The good thing about me, I think, is that I worked for lots of brands as a designer, for other people, before having my own. Because of that, I learned about the business in everyday life.
First, I designed and made clothes for others. Then, I started working for Alpargatas after participating in the contest they had organized. I was twenty-three years old and I met Yagmour's owner there. Besides, since the degree I wanted was created once I had already graduated; the advantage was that there weren't many clothing designers. I was lucky to have lots of work. I worked at Yagmour for five years and then I was hired by Vitamina in the nineties.
Finally, we opened the first shop in 2003 for our brand, which was called Tienda Tres, with two partners. After that, it became Vero Alfie & Flavia Martini and now it is Vero Alfie's shop. This year we're opening another store at Paseo Alcorta Shopping centre. I love fashion, I'm passionate about it. But constructing my own brand just as I want it to be meant a really long process, and I feel like it's not entirely done yet.
We also manage wholesale within Argentina and we started selling to Anthropologie, a North American retailer, and to Latin America. This means competing with the world, which is not an easy thing to do from Argentina, because it is too far away. That's our problem.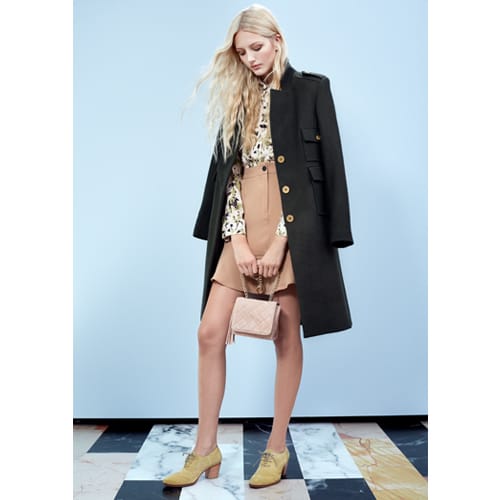 How did you build your own brand?
It is very difficult to know yourself after working for other people for such a long time, because your hand becomes versatile and it is hard to choose for yourself. I believe it took me six years to define the idea that, whether it's trendy or not, I'm a romantic. It represents who I am and my life. I like intricate things. Even when minimalism is fashionable, I love embroideries, maximalism, working on fabrics and making high-quality products.
When you are building your own label, you have the notion of both what the customers want and what you have to offer, and that's how it is generated. Working out the seasons is what makes it more personal, but you have to discover the brand's spirit as a permanent element throughout collections.  I think that this is noticeable in Vero Alfie.
On the other hand, it was hard having to choose what functioned and what didn't beyond fashion trends. Contrary to what people may believe, you have to be extremely informed to be able to do that. You have to know what kind of label you want, who your public is, and who you are selling to. And then, you have to put trends aside because if you are too close to them, you won't have a strong personality.
How did you go from clothing to accessories and décor, turning Vero Alfie into a lifestyle brand?
It is exactly what I was just saying. Once you have defined your style you can do clothes, sheets, coffee, whatever you want, and it will reflect you. First, you need a story to tell and then you'll be able to generate a certain lifestyle. Now I can imagine the Vero Alfie shop, Vero Alfie Hotel or Vero Alfie candle. It is all in the same ambience, which has to be seen in the image, the campaign, in everything. That's what brands are about: creating a world.
So, I think that creating a décor line has given it much more identity. For instance, someone that would not buy a shirt, maybe buys a candle. What that object inspires is what makes him or her buy something from us. The more elements you have, the better you're able to create the label's universe, especially if they are well chosen. And I haven't stopped there: we're currently developing a fragrance line.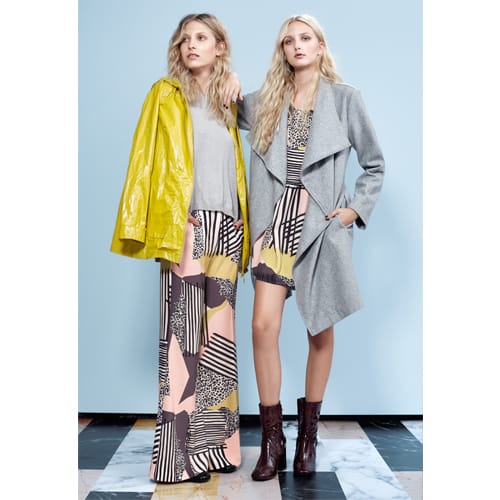 What's the story Vero Alfie wants to tell?       
We want to communicate that we're a possible and romantic brand that uses noble materials—that we are a Vero Alfie universe, not confined to a certain age, where values and femininity are strongly rooted beyond fashions.
What I mean by "a possible brand" is that we want to be more than a trendy label; we want to be a brand that people love and feel welcome inside of our stores. We are focused on the service quality offered from our shop assistants and everything must be impeccable. It's like the Danish film, Babette's Feast, where the girl prepares an incredible dinner with money she received from a heritage. Or when you say, "This is too good to be true". I work on the basis of that concept: I want people to feel happy when they buy at Vero Alfie. That's our spirit. For example, when a person buys lots of things we say "Ok, we'll give you these things as a gift with your purchase" and they can't believe it. We want to make you feel happy and leave with a smile. We have a lot of things to improve, but that is already happening.
How do you balance hand-made craftsmanship with a serial production technology?
That's an important issue for us, but I don't rule out anything. For instance, I did One of a kind, a small collection of unique pieces. You may think I'm crazy, but I wanted my customers to have them. We didn't earn money, but how important is it for the brand to have a one of a kind garment? We even took down the name of every person that bought a numbered piece. That's something that is disappearing nowadays and I don't want to lose it. On the whole, it was great for us. I will not be closed to anything to give my customers the best product.
I balance it with three product levels inside each collection. A much more economical level goes to wholesales; then there's an intermediate level, which is the one that sells best; and an exclusive level of limited editions of ten to one garments. I may have to negotiate the price of this last type with the artisans, but I'll never stop doing it because that would be the day I'll turn into H&M and I don't want that. I wish to be the anti-H&M. I want people to buy two or three pieces of clothing from my brand, so that they can have it and be able to say "this is exclusive" and know its story. We have a deal with an artisan weaver from Catamarca province to produce marvelous but expensive ruanas for the autumn-winter collection. Not everything can be done this way because I wouldn't be able to make a profit. However, I'm not going to stop doing it.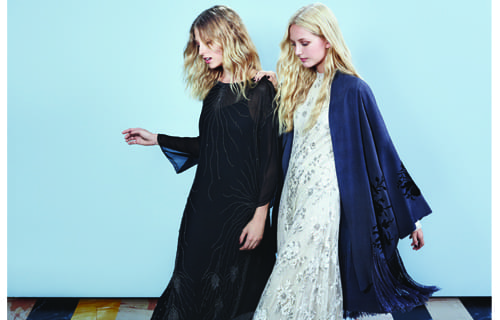 How did you come up with the idea of One of a kind?
One of a kind is meant to raise the value of the label. When the brand is becoming industrial or massive, when it is growing, we can't forget the uniqueness of its designs, or we're going to lose our first costumers (those that came for an evening dress and I took down their names and parties, so that no one would buy the same dress for that occasion, for instance).
In some ways, this collection represents something that is done especially, one by one, with tablecloths and other rare materials. It was very expensive to make and it cost more than what it returned in sales. But it placed lavish attention on consumption. There is not one piece like another; they're all different, made from materials that I gathered through the years. We sold them all. I believe this is something that was missing: being able to show the exclusivity of design.     
Will it have continuity in the future?
Yes, every season's collection will be accompanied by a One of a kind project.
In a world dominated by the acceleration of trends, basics and serial production, why do you choose to stand up for high-quality, hand-made craftsmanship and limited editions?
I do it because I think that the message behind the massive fashion industry is tiring a lot of people. Although our prices are higher, they are justified by our work. I think this is my place today. I don't have an enormous company or a bank, and I don't care to be a massive brand. I do care about growing as a label.
Our clients ask us for more embellishment, more embroideries. Those are not all hand-made, but they look like it. It's like some brands like Anthropologie, where everything seems artisanal even though it is far from being so and it has a reasonable price. That's what I admire.
Another advantage that we have is that we have real sales. People that can't afford to buy our products during the season come when they are on sale. So, we give them our best prices and we're congratulated on this. We believe in this because, after the season, there isn't much left, we had our earnings and we want all to have the possibility to buy.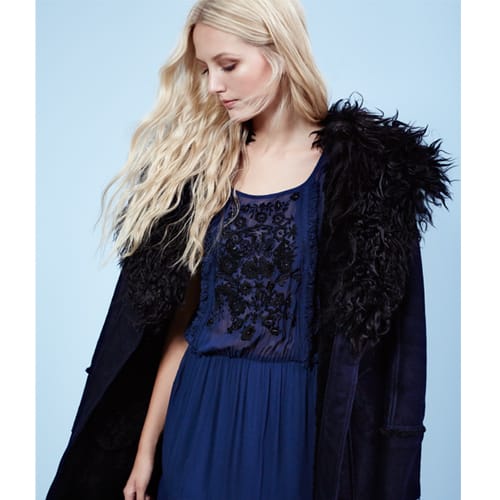 I noticed that you have a blog. Do you work on it and choose its materials?
It's very home-made still. I have a collaborator that writes its posts. I'd love to work on it but I can't do everything. I do choose the topics and materials we talk about on it. For example, this week it's about coloring books. It's about things that I find in my life; I research them and I show them there.
What is your next collection about?
Our autumn-winter 2016 collection was inspired by the seventies. Because of that, it tries to empower women. It doesn't have a theme per se, like other times. It's all about the romantic spirit and that specific decade.
How would you evaluate the state of Argentinean fashion nowadays?
I believe that Argentinean fashion is great when it comes to brands. They are solid now. Nevertheless, it is weak regarding materials. The market has become inferior and with higher costs. As a result, we're not competitive and we have a long way to go. But there's a national industry, which is important.
What was the origin of Visiones Trend Forecasting?  
I have a partner that lives in New York, Soledad Offenhenden, who works doing trend research for a variety of brands. She came one day (before I had my own brand and was working for other clients) and proposed doing a seminar about trends. I was in charge of production and she carried out the investigations with a team. This hasn't changed. I keep up with the material but she prepares it and puts it all together.
That happened ten years ago and it was an excellent idea: to provide a service to brands, letting them know what the trends will be, such as colors, in the near future. There was also the plus of knowing that during that day, with great food in a nice place, people spontaneously form a network.
Visiones is no more and no less than the trends seminar of Argentina. Now there are people that attend the event who don't necessary make clothes. I'm talking about people from YPF or other companies. That's unusual, but the reason is that the part about macro-economics is extremely useful.
What do you think the consumers' attitude is nowadays?
They look for novelty, for a price according to it, and to have fun and feel happy with what he or she is buying. But they think before buying like twenty times in Argentina. And maybe that also happens in the world, in general, due to the strong recession.
Do you think that Argentinean brands adapt themselves to the consumers?
I think that they adapt to them to an extent. They don't really know what is really happening, and neither do I. I don't know if they are prepared in case great retailers like H&M arrive in our country as it is rumored.