Creativity makes everything better and more fun and nobody can better prove this fact than Jazmin Calcarami, makeup artist and stylist. She has been the official makeup artist for Maybelline NY Argentina since 2013. She has worked for  Vogue, Harper's Bazaar and Catalogue, among others. Calcarami has worked alongside renowned photographers, designers and brands. She has steered her interest all through the art of makeup, showing originality through the pursuit of beauty with a modern style, young and full of color.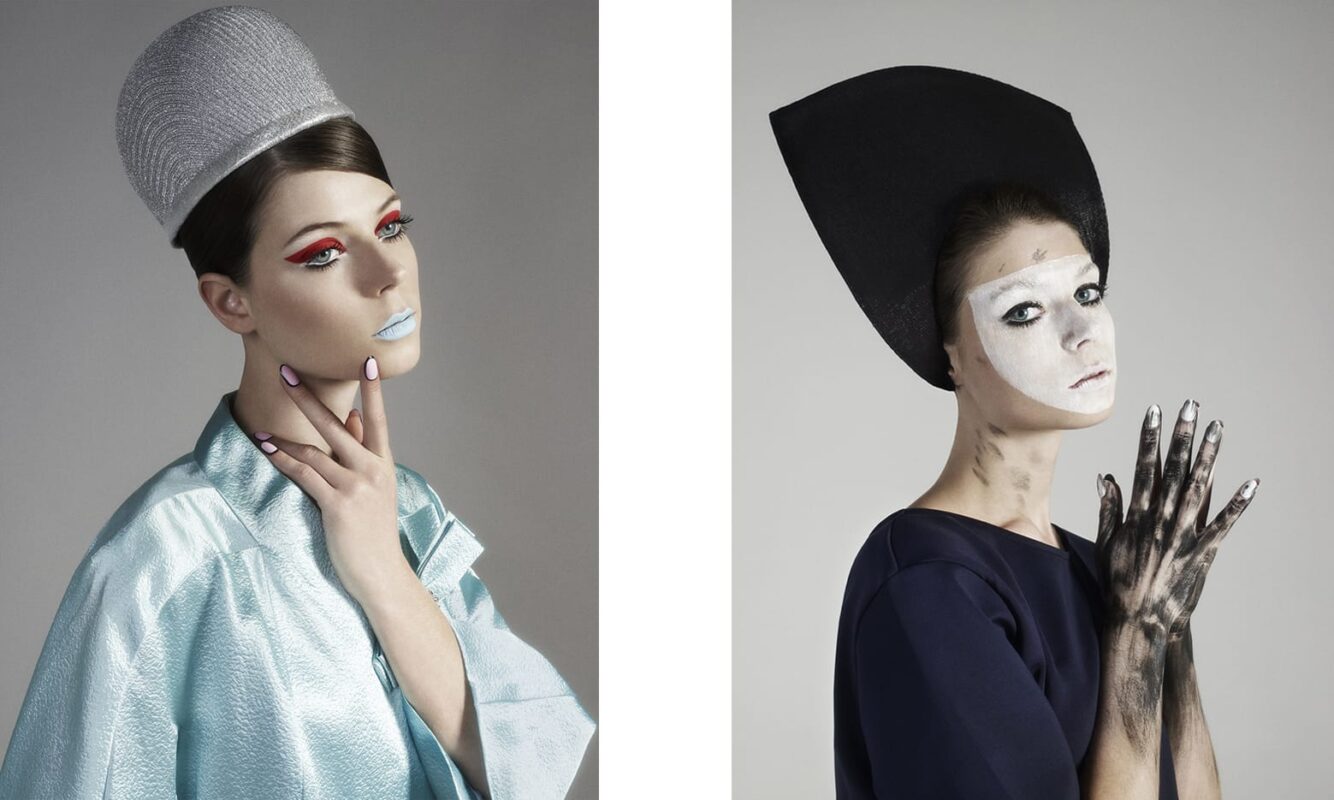 PP. How did you get into makeup?
JC. The truth is that it started in a very casual manner. I used to decorate my eyebrows with pinpoints of glitter, but not use makeup. My mother has produced fashion since I was ten and I always went with her to work; I was fascinated talking to makeup artists and looking at their suitcases full of colors. A makeup artist who worked with my mother invited me to take classes on Saturdays. At that time I was in the fourth year of high school with a background in ceramics and drawing. I was sixteen years old.
Soon I began to do makeup in Bond Street Gallery Shows—a small shopping place located in the neighborhood of Recoleta in Buenos Aires. At that time the gallery was a meeting place for alternative and under designers. I remember doing makeup for twenty people for a parade, among which, I also found myself.
Then the next year I started studying characterization and that is where I saw the creative diversity that makeup could have, which lead me to be more interested and relate everything that had already been developed— the plastic parts in school and what I learned from my father who was an artist.
PP. Your training is very wide, from art and fashion design to styling. Tell us how you discovered makeup as an art form?
JC. Since I was very small, I grew up surrounded by fashion and art from both my stylist mother and my artist father. This, I believe, made me naturally relate everything to the visual and creative. On the one hand, at age thirteen, I decided to take art school courses, so besides finishing high school I also got artistic experience in something I liked.
Then at age sixteen, I began casually experimenting with makeup, kind of without interest. I kept studying makeup and I realized that it's something that goes beyond the social corrective. Suddenly I could pair make up with anything and I started to relate it to paint, then some FX and also the ceramic arts I was learning in school.  Also my interests, until today, are very different. Something I have always liked is clothing. Since a very young age I had something very strong in the creativity of the clothes I wore; what made it was garage sales and unique pieces. I could think of many items I wanted to use and could not find, so, I began to cut and change clothing of mine. I also loved the headdresses and began studying wigs, hairpieces and headdresses at the Higher Institute of Art (ISA)  of the Colón Theatre, where I was going to do workshops and learned to use a sewing machine. I liked the idea of creating characters and felt that everything I was learning was connected and full of potential.
Following my love of clothes, I studied a little design with Delia Cancela  - an important Argentine artist and designer. She's a friend of my father and my mother, and like an aunt to me. I feel very identified with her love for art and fashion and how she has done both simultaneously.
In parallel with these studies I kept doing makeup and one day a photographer asked me if I dared to make the styling campaign clothing brand where I had to dress more than seventy models. I was twenty-one and I said "yes" instantly! From there I began styling, and it really was something that came naturally to me, I think from everything that I learned from my mother.
For several years I kept doing many things in parallel, until one day one  profession  beat  the other and I stayed focused on makeup. From this approach arose the makeup artist and hairstylist agency, JC Agency, sometime later.
In my life I apply creativity in other forms of media, such as photography, embroidery and now ceramics again.
PP. Where do you look for inspiration for your work?
JC. The truth is that I do not seek inspiration. I know there are things that inspire me, dazzle me or move me more than others. I have something very strong with all ancient cultures, and tribes of the world in general. Nature never ceases to haunt me. The colors and shapes that exist are pure harmony. Then of course a lot of fashion and art from the present and the past inspire me. These are starting points for my students and almost all start working with these triggers, from ethnic groups who began the tradition of makeup, to decades with their corresponding artistic and musical movements like Glam with the iconic David Bowie. I also give them exercises where they can bring in their own inspiration—perhaps some are more interested in the word and know that makeup can also arise from a word.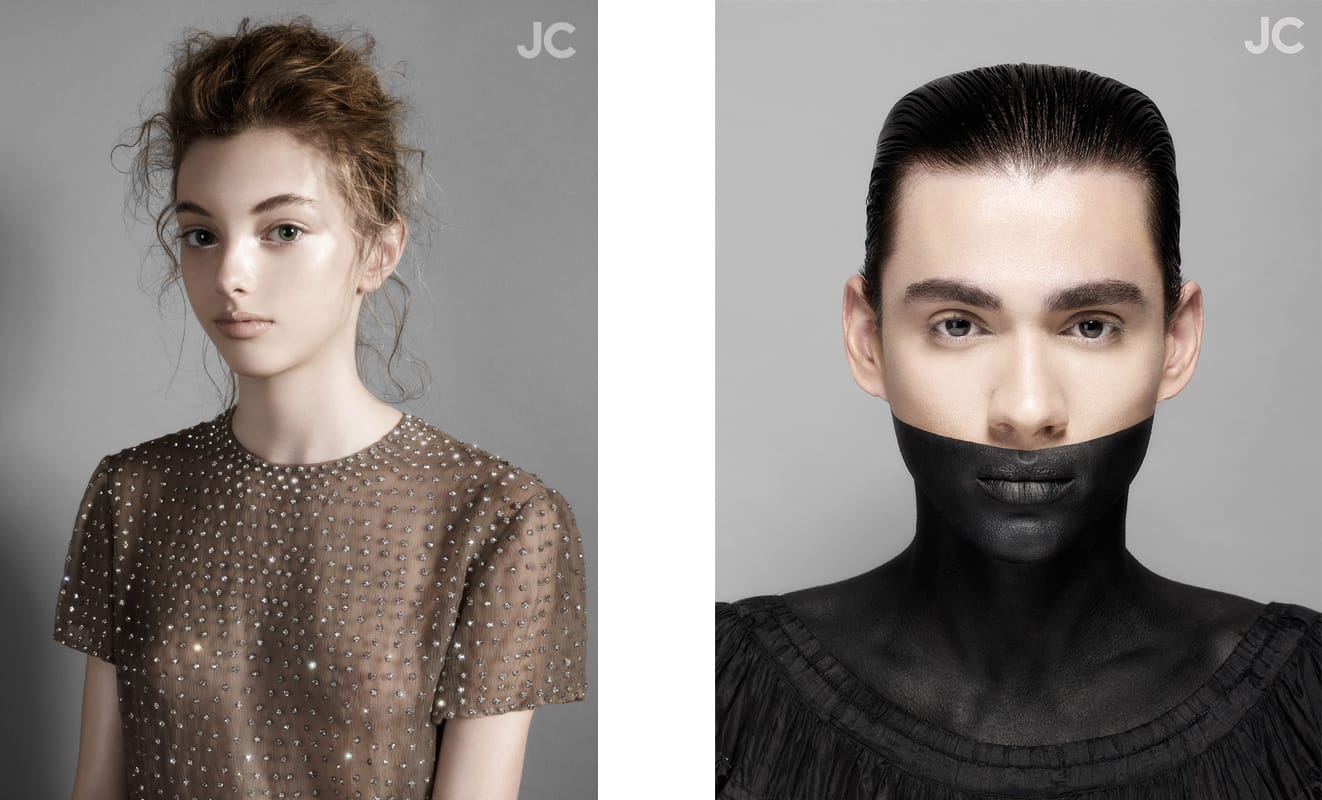 PP. Among your works are different styles, from commercial work and trendy makeup to others with a more innovative and free look that can be placed as an artistic expression. Is your approach different for each of these projects and the construction of the idea?
JC. Today they are increasingly close since both styles can be applied for commercial purposes. For example, a body completely covered in glitter that I once did more for my own projects, is now something that brands call me asking me to do for them.
There is also something that has been happening since a couple of years ago. What I had been doing for pleasure became fashionable—art has infiltrated fashion. Two years ago Prada took an artist as inspiration for their collection; even the stages of the shows were filled with giant paintings or works of artists, and that was growing every day. Fashion shows and editorials were increasingly using painterly gestures in the makeup or unconventional materials in hairstyles.  I think that this fusion that I was given by my home where I grew up, is now something that is very strong in fashion.
Returning to your question, making a more "classic" makeup look a little more modern is just seeing where each is best applied. Knowing how to choose to do what where and in what context, is what, in my opinion, makes you a good makeup artist. We have to know what we bring to the final composition  and have it add to and join the rest. The makeup is not isolated from the hair, the face of the model, the lights the photographer usse, style of clothing and where it is used. All those things influence and are the triggers that you contextualize when you create and build an idea.
PP. What is the process of creating each image / character?
JC. That depends a lot on the work / project, but the reality is that makeup is something that cannot premeditate much. Although many times you exchange thoughts and references by e-mail, the work is done very spontaneously and that is something I like very much, because it requires a lot of creativity. When one doesn't move in creativity what usually happens is that it always falls on the safe side, without risk, and I think that's what stops the artist from evolving.
There is also something about being wrong, in that while doing so often ruins the face of the person, it's also the new and genuine most often appears. Gesture without control is one of the most difficult things to ask of a makeup artist because we are constantly seeking perfection, neatness and symmetry. Something also interesting is that we paint on skin. Someone who moves, breathes, and has things happen to them, is very different from a static picture that you can have sitting there for months , grab it, leave it and take it up again. Makeup happens here and now; you can not erase a lot and time is limited. There is also a link between the model and the makeup artist; you need it so that everything goes well and so that you can be comfortable with each other.
Another wonderful thing for me in the art of doing makeup, is that it is extremely short-lived. You can spend hours doing makeup and maybe the photo or show lasts a few minutes and if there is no photographic record, it is as if it had never existed. You work with constantly non-attachment.
PP. You've worked for publications and photographers from both the Argentina and abroad. Are there different demands or challenges?
JC. The truth is that I find them very similar, except maybe perhaps that foreigners are all a bit more organized and work with more structure, but the rest is the same. With respect to challenges, I do not feel that working with foreigners involves more than working with national projects. The way I work is always the same. Maybe something that I could highlight regarding the international is having the experience of doing makeup for and knowing Bjork when she came to Argentina. The nicest thing was to see how one can be connected, not only creatively but humanly, with someone who was born on the other side of the world and who you've admired forever, and suddenly you find yourself and them flowing in sync. Besides being free to propose ideas and have the other, not only trust you fully, but like your work and the proposals I made... those were magical weeks for me.
PP: In your job, you work from beauty. What does beauty mean to you and how do you translate it in practice?
JC. By working within the fashion industry, beauty and aesthetic is something that is always present and I think it is so ingrained in me that even at times I can hardly do something that is considered "ugly". Also, everything is very subjective. "Ideal" beauty as certain proportions of the face, eyes and lips, is not something that must be always applied. In fact, breaking these rules in makeup sometimes leads to other types of aesthetics. It happens a lot in fashion—there it is allowed, whereas in the social makeup world, you always work from the corrective and beautiful.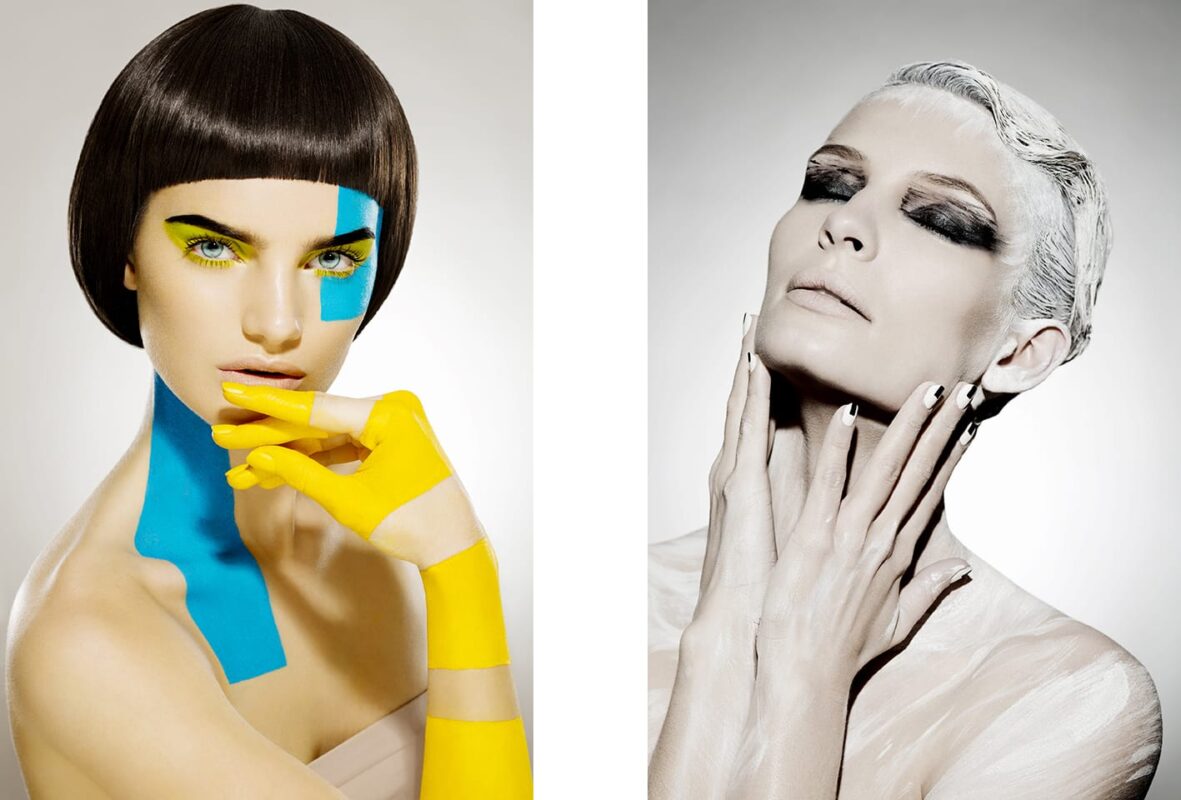 PP. Since 2013 you have been an artist of Maybelline NY Argentina. What did it mean for you to be part of the group Maybelline NY Argentina?
JC. When the Maybelline NY proposal came for me, it was a big leap in my career. To work with a company with many years of experience in the history of makeup is an honor. Besides having new experiences and making filmed tutorials, tips and notes on creating beauty, I've also worked on a fashion blog and coordinated parades.  I think something that was a challenge to me is all the parts of exhibition that brought me to be a brand spokeswoman: filming video tutorials, learning texts to speak, cameras, etc. I think those were great challenges related to my career.
PP. What, so far, is the work you most enjoy and feel that is the most representative of your work as an artist? Why?
JC. The most wonderful experience is definitely having worked with Bjork. I also enjoy the traveling I do for work; that's a wonderful thing. Another thing that is super rewarding is to teach and see how the mere fact of learning to do makeup can change someone's life. I have seen total transformations in my students from all corners of their life and of course one learns from that too.
PP. Currently you direct the agency makeup artists and give courses, among other things. What plans do you have for the future?
JC.  I plan to continue with the Agency makeup artists, hairstylists and nails artist that every day grows stronger. They are a wonderful team of super-talented people. With the school, my idea is to have more courses and workshops not only on makeup and hair, but 0n all kinds of other disciplines that relate.  My idea for this year is to bring both projects outside of Buenos Aires and outside the country.