Estados de conciencia (States of consciousness) is an installation whose artist invites viewers "to catch a glimpse of our conscience in order to broaden it; to discover ourselves through it, to an oneiric journey to self-knowledge". The exhibition is a series of photographs taken by Gaby Herbstein that navigates the waters of feelings, dreams and fantasies to explore the nature of consciousness. The production was displayed between November 26, 2015 and February 7, 2016 at the Eduardo Sivori Museum of Plastic Arts, located in Buenos Aires.
Gaby Herbstein was born in Buenos Aires in 1969 and has had a bright career of over twenty-three years as a photographer and visual artist. She has worked on many exhibitions in Argentina and abroad, as well as for many national and international publications such as Harper's Bazaar, ELLE, Latin American Vogue, Marie Claire, Novum World of Graphic Design, etc. Herbstein's accomplishments have been recognized with many prizes, such as the Swarovski Clover award for professional and human work.
This photographer takes her own experiences and personal spiritual quest into account and uses pictures as an expressive means to raise awareness. She devotes particular attention to universal well-being and the preservation of the planet's beauty, among other concerns. For instance, she has developed calendars for the Huesped Foundation for four consecutive years in Argentina, with the purpose of communicating the importance of preventing the spread of the HIV virus.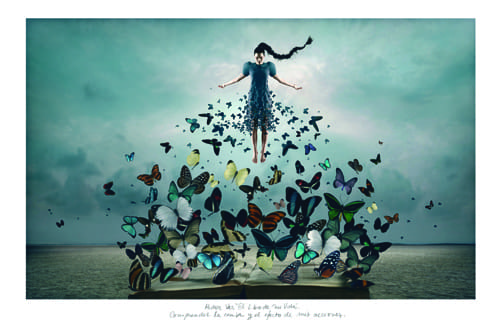 The Journey
The Eduardo Sivori Museum of Plastic Arts is located in Palermo opposite a public rose garden, and is surrounded by a lake. It is one of the largest green areas of the city and the museum's facilities blend into it harmoniously with transparent walls and a garden full of sculptures. The afternoon sun shines bright on the hall as people walk slowly across the exhibition's rooms. People of all ages stop to enjoy and admire the art.
The pictures that make up Estados de conciencia were produced in 2013 but were first shown last year. The entire display is comprised of a short film, seventy objects, several materials used for their conception and production and tbirty-five photographs related to a personal manifesto.
"Becoming aware of our ego, our darkest corners. / Developing the ability to see the "bigger picture" when conflicts arise. / Understanding that every action we take leaves a mark in others and in ourselves. / Becoming aware of the impact of our words in others. / Learning to let go of what harms us. / Understanding that living in paradise is a task and an endeavour that belongs to every single one of us. / That it's not up to the others, that it is indeed possible to design that paradise and build it the exactly way we wish it…", this is part of Herbstein's manifesto.
Needless to say, the starting point of this new land exploration is the definition of consciousness. In fact, the quest to grasp its meaning is what drives the search for inspiration, the picture outline, the level of details, the election of every piece and object, the production, the composition and the shooting. In this process, stylists, fashion designers, models, make-up artists, hairdressers and others, most of them from Argentina and with different work styles, are brought together to create a particular vision. The viewer is invited, not only to the oneiric journey through imaginative worlds, but to the complete creative process itself.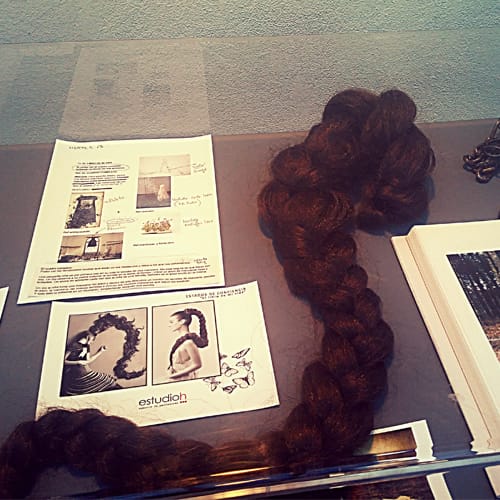 All the pieces have a handwritten phrase at the bottom, which serves as a trigger to a certain train of thoughts, while staring at the comprehensive image and spotting the smallest details. For example, you can read: "Where the thoughts would take me…", "If I have certainty, I won't fall", "Negative thoughts. Blindness. Flying backwards". "Only I can put together my life's puzzle", "Losing oneself to find oneself", "I believe in soul mates. I believe that wherever they are, they look for each other until they find themselves", among others. Despite the fact that they may sound like cliché remarks, taken as a whole with the visual composition, the labels show much deeper implications.
Aside from that, the photographer was profoundly inspired by surrealism, something expected since two of the main focuses of this expedition are dreams and the subconscious. Fashion designer Elsa Schiaparelli, alongside painters René Magritte and Frida Kahlo are the centre of some of the pictures and form a sort of reference warp. As Herbstein declares, "I share with you this simple tribute to those who succeeded to express with images what cannot be seen, the metaphysical world, what lies beyond, what awaits inside of us, what is unveiled in our dreams".
In addition to all of this, the exhibition has been awarded a gold medal of the Prix de la Photographie in Paris (one of Europe's most prestigious photography competitions) for the Fine Art / People category and its book has been given a silver medal for the same category.
Vicky Salías, curator of the exhibit, says, "The artist builds the necessary language step by step to crystallize the scenes that her imagination longs for. Between reality and estrangement, her discourse is inscribed into magical realism: her vision not only transcends what she sees through the camera lens, but on the contrary, the lens sets on something that Herbstein has premeditated conceived".
Consequently, this artist compels you to reflect on photography as a blank canvas for creation, not just as a portrait of reality. The images created by Herbstein show a magical and dreamy world that, like human nature, has a touch of darkness. It is closely related to an introspective process that requires us to dive into our feelings, the good ones as well as the bad ones, in order to know ourselves, to understand why we are who we are and do what we do.
In the end, being able to decipher such an intimate state of things should bring you to equilibrium: to be at peace with oneself, with the others and with the environment. The creator's message for Estados de conciencia,  is that self-knowledge will help you to translate thoughts into actions to achieve a better future for all of us.