It was a typical wet, hot, January afternoon in Buenos Aires when Andrea Urquizu received us at her shop in Recoleta, which she shares with shoe designer Lucas Sánchez. The store is marked with her personal signature; almost everything in it is black or white and minimalistic
The twenty-nine year old graduated from the Architecture, Urban planning and Design Faculty (FADU) at Buenos Aires University in 2009 and has been working on costumes for rock bands since 2007. In 2010, she created her clothing brand, AU.
Urquizu's inspiration for each collection comes from music, which provides certain consistent elements in her pieces. With a determined minimalistic style, her colour palette is restricted to black and white. Her work is characterized by embroidered textures and sharp tailoring that combine classic typologies with modern codes and elements from other clothing rubrics.
Urquizu defines herself as a happy person and an obsessive designer who always pays attention to the tiniest details. "I'm extremely pleased with what I do. That's my principal for everything. I would give up design if it didn't make me happy". That doesn't seem to be a problem, seeing as how a grin never left her face the entire length of the interview.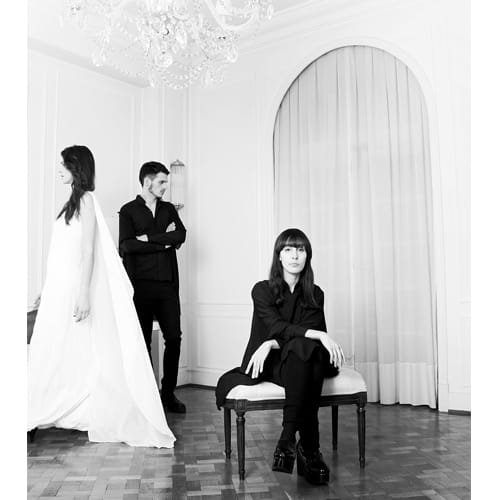 What was your first approach to fashion?
Actually, I can't remember the exact moment when I decided to study clothing design. I was finishing high school, thought about registering at university and just started. I can't recall a precise moment when I said "I love clothes". Obviously, I experienced normal things as a child, like being in love with a dress or putting on hats. I felt something like an attraction. But it was never something deliberate. It was natural for me.
In fact, I also wanted to study architecture but I didn't, considering my tendency towards anxiety. I want to see my designs done quickly; I couldn't have waited to see a building finished. It would have been terrible for me. Everything is more immediate in clothing design.
AU is recognized for both being minimalistic and for working with embroidery as part of the garments' structure. This is a continuation of your student days. Why do you choose embroidery as an ornamental element?
I went to a religious school and the nuns made us embroider. That's how it all started. Then, when I was at college, I bought a machine to be able to work from home. Since I was spending a lot of time studying, I didn't have time for a steady job. I embroidered kids' names on their school uniforms and things like that, that drove me crazy. But, as a result, I learned all about machine-made embroidery, about how to assemble a matrix and how to create designs on my computer. In other words, I learned to give shape to technological embroidery. And then, I started to try things for myself and here we are.
How did you come up with mixing rock and roll with fashion and making this the essence of the brand?
Basically, it happened because of my social environment. I always had friends who were rock musicians and, actually, my husband is a rocker too. They invited me to their gigs and said "Why don't you bring us some clothes?" So, I ended up dressing eight different guys. I did it multiple times, until finally I decided to add this to the project that became my own brand. It seemed like it was a piece of me that had turned into a job at some point. I was dressing rock bands before I started my brand; it was already a part of it.
Your FADU thesis as a clothing designer was based on your actual idea for AU and it was rejected. Why did you move forward with it anyway?
The worst thing they can do is to say "no" to me. I believe that I found my fortitude in the rejection. I fell back into the project with much more strength. I was absolutely sure that the idea was bound to work out. I knew that it was what I really wanted. So, I pleased the teachers; I prepared my thesis about a different topic and I did whatever I wanted afterwards.
Nevertheless, I believe that the brand gets closer to what I want it to be as time goes by. When you are in the early stages you're not sure if you have something ready to be shown. You're really insecure until you realize that there are certain things that work out and you find your path.
Your work's aesthetic has lots of references to iconic musicians. How do you crop out their influence?
I take the essence of each musical artist (they usually have a lot of strong points). I choose what works better for me and what I like best from them. It's a personal cut of the artist. For example, take David Bowie. Lots of people may think about a lot of colours and other stuff. However, I saw him in black and white and I took the lightning figure, which is a geometric form that I love. Everything I contemplate in life has a personal filter. I mean it in different aspects, not only regarding artists.
How does your creative process start?
The first step is choosing the collection's theme. There's always a theme because it's what allows me to select all the things that come with the process. I decide on a musical artist and then drive myself crazy investigating. I watch films and documentaries, listen to their records, search for unpublished photographs and more. When I chose Bowie I saw pictures of him taking a walk with his daughter. That may seem unrelated, but it's not necessary for him to be on stage to get the true essence of him. I observe his attitude, his features and other aspects. The combination of all that material gives me a certain sense. That's when I select the textiles, start drawing sketches and everything takes shape.
AU is part of Hectárea, a new city circuit of design that involves other designers like Juan Hernández Daels, Oldi, Matute, Lucas Sánchez, Lena Martorello and Belén Amigo. How did this project arise?
When we started opening our shops, we noticed that there were other brands like us close by. We are a group of seven designers in four shops, but our aim is to keep adding new members— there are a lot of designers in the area. This happens because the advantage of settling in Recoleta is that there are only small or designer brands.
Since we all have different styles, the main goal of joining forces is to communicate that we are new and that we make unique pieces. We want to make people understand what author design means and that we are distinguished from the other clothing brands in the neighborhood.
How is your experience with e-commerce?
I've been through several stages. At first, I thought it would be impossible to sell my clothes online because of the price and because people usually try clothes on before buying. However, I have many clients— mostly men—from the provinces.
I sell to a far greater number of men than women online. Personally I believe that they're looking for something different from what they can find at their local places. They usually become regular clients. Maybe they start with basic designs and then order something much more daring because they know it will fit correctly, and when a pair of trousers suits them, they buy the same one repeatedly.
Anyway, this is an author designer business. The numbers are no match for mega-sales. We have a small potential clientele but e-commerce is something that brings us closer to people that don't frequently receive these kinds of things, so it is worth doing.
What do you think about the Argentinean fashion scene nowadays?
There has been a great development in the sector these past few years, demonstrated not only in individual cases, but also by the appearance of a lot of new brands. Take me for example. I have been dedicated full-time to my brand for three years now and I've experienced a significant growth. The same happened to a vast number of fashion brands. I hear that they've opened new points of sale or that they are doing really well. Not to mention the fact that people are starting to look for something different when buying clothes.
What are some of the challenges your brand has faced?
It's not easy when the brand is born and during its first years, but I think it gets harder when you have to grow since you don't have the necessary structure. I did everything by myself in the beginning, but I had to ask for help sometimes. I turned to my family, and then I needed more people even though I couldn't pay them. Consequently, this developmental phase means that either you grow a lot or just halfway. This is the awkward part of business. Once you start to develop the brand you have to support it and allow it to keep growing.
Aside from this, sometimes you don't get as much press as you used to, especially when you're no longer the latest novelty. It's marvelous that fashion magazines give a lot of space to new designers. However, sometimes they seem to lose interest in brands that they should keep supporting. I mean, fashion press should stand up for everyone throughout their whole process.
What is next for AU?
We will put our focus on the commercial side of AU this year to support our growth. It's fabulous when you have runway shows and business travels all the time. But, on the other hand, you start neglecting some things when you have a small structure. Now that we have our shop it's good to concentrate on it, listen to our clients, and keep doing everything we used to, but more relaxed. I'm no longer desperate to put together lots of shows during the season. Last year we had five shows in Chile. Now, I prefer to have less or smaller events on my schedule and be able to support my brand daily.
What can you tell me about your next collection (autumn-winter 2016)?
It's going to be about Sid Vicious and Nancy Spungen, and it's going to be punk, the act of rebellion of the season. Obviously, the colours will be black and white, with a metallic touch of punk. It's still in development because I'm a bit behind schedule. Everything has been selected, now we have to make it happen.
Rock couples is a theme that I love. When I did my first Buenos Aires Fashion Week I chose Mick and Bianca Jagger. Now, Sid and Nancy's explosion of energy have caught my attention.
How will you take on punk?
My version of punk involves geometric and calculated designs. When I did 27 (Fall 2014, inspired in the infamous 27 club), the rip in the pair of trousers inspired by Kurt Cobain and Grunge was made with a scalpel, which made it extremely precise. It had a hole, but an impeccable one.
I love taking care of these details because it's like everything goes through a filter. I'm not going to make punk clothes literally and use safety pins. I refused to use fringes in Woodstock (Summer 2016). Eventually, I made fringes that came out of an embroidered piece. It had to be done in a way that represented me and it was a relief to come up with the idea.
I don't like using anything that drifts away from the brand's aesthetic. I just wouldn't be at peace. I love when people can recognize my work when it's displayed on common racks with other designers' work and say, "Oh, this was made by Andrea!"