Buenos Aires Fashion Week (BAFWEEK) has already ended for the Spring-Summer 2017 season and it has proved once again that fashion is alive and that creativity runs through local designers' veins. There are always new names to add to our watch-list. These especially came from Pasarela BA, an initiative organised by the Metropolitan Centre of Design (CMD), part of the Buenos Aires City government.
Pasarela BA's main purpose is to promote local emerging designers' growth by supporting them and giving continuity to their work. It grants them the possibility to show their creations to a larger public and offers them personalised assistance. The platform is meant to consolidate Buenos Aires as a Latin American design and innovation centre facing the world.
"We support the creative and productive process behind fashion. Thus, Pasarela BA promotes those who, beside seeing a garment, also see a process which includes talent, technical and material resources, a trade, knowledge, business and management procedures, image and identity building and guiding values", is read in an official brochure distributed at the BAFWEEK stall. In this very same spirit, the slogan for this year is "To those who see fashion beyond fashion".         
Silvia Torres Carbonell, Sub-secretary of Creative Economy and Foreign Trade of Buenos Aires City government, has declared: "Out of the almost 300 clothing designs undertakings that exist in Argentina, 30% are located in Buenos Aires City. (…) We have a community of young designers that conceive incredible ideas daily. They are the driving force that sets in motion the value chain; taking raw material, workforce and local productive resources, and enhancing them with each design resolution".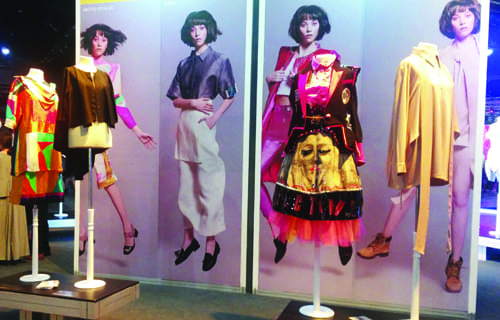 For his part, Diego Radivoy, General Director of Creative Industries from Buenos Aires' government, points out some of the latest tendencies in fashion industry: see now-buy now circuits, gadgets inclusion, unisex clothing, sustainability, pop-up stores and a secondhand market that is expanding digitally. He manifested that "our objective is to come ahead of these challenges for the designers to be able to plan their business project according to new trends. Moreover, we seek to nourish design by linking it to other creative industries, resulting in new formats such as fashion films".
As well as giving new designers space at a renowned runway and connecting them with specialized press, the contest's winners are put in charge of a CMD mentors team at an annual counseling program. Through this special course, designers are advised in brand building, communication, product development and business management.
All candidates presented their collections before an interdisciplinary jury, formed by fashion business professionals. The contestants had to submit their work as a look-book catalogue or ad campaign. This season's winners are Matías Hidalgo, Kalu Gryb, Speranza and Abre, as detailed below. The greatest highlight from this particular selection lies in the mere fact that the designers come from different cardinal points of Argentina. This has never happened before in the program, and the result is not only a wide representation of the country but also the display of fascinating proposals and a diversity of perspectives that allow one to take a deep look at current local design.
[youtube https://www.youtube.com/watch?v=esK5cxL88G4?rel=0]
Emerging talents on the horizon
Matías Hidalgo
Matías Hidalgo is a clothing designer and creator of his eponymous brand. He graduated from Buenos Aires University (UBA), where he is now a teacher of Expressive Means. This subject focuses on drawing, photography, prints and other useful means that may help creators find their own style. His work combines sport and vintage styles, resulting in a unique mix that functions as a personal signature.
Hidalgo's collection for Spring-Summer 2017 is called Asunción (Assumption) and its starting point consists of giving a new meaning to used textiles. He recycled silk foulards from the 1980s and sport elements from school uniforms. His presentation brief explained that "he proposes to rediscover the dream of a past epoch from the current look of design".
Asunción's runway debut was carried out the 9th of August and, since it was the opening of Pasarela BA, it was preceded by a short speech from Silvia Torres Carbonell. She welcomed the audience, commented on the CMD's intentions to continue its support of creativity in fashion and praised the winner's work. Then, the lights went out and we caught a glimpse of this young man's talent. A musical rhythm marked by drums and trumpets as well as the styling seen on the models (turquoise eye shadow, red lips and tight buns) showed influences from James Bond movies and the 1960s.
Colour blocking composed of an almost unlimited colour palette in saturated and bright tones, geometric folk prints (from the recycled scarfs) and patchwork techniques emphasized the visual reconstruction of the materials made into a brand new garment. These were the common thread of a fluid collection. Opposed to the intricate patterns formed in a sort of intarsia, the silhouettes were oversized within simple pieces: bomber jackets, jumpers, dresses, blouses and wide leg trousers. A repeated detail that matched the concept of the collection was the sportswear necks and cuffs.
When asked what he wants to transmit through his clothing, Hidalgo responded: "something that binds us together both socially and culturally to tell something different from ourselves. In this reversion the materials are repositioned in front of our eyes, they get another use, they fuse within a sporty aesthetic and they blend conceptually with themselves. Their significance is reinforced: a new language is subscribed on top of their old significance of desire, transforming them into an extraordinary object of desire, nostalgic but new. Clothing is a symbol that connects, binds and generates stories that talk about mankind history in society. It's a place where I can dive in looking for missing links and forgotten textile materials. I take up some part of that spirit and bring it to a current look".
In reference to the importance of having his collection presented in the context of BAFWEEK, the young designer asseverated that it meant to enter into a more visible circuit. "BAFWEEK is a wide platform with several edges of fashion as an object. The most significant thing was to be able to find a space where I could be introduced as an independent designer and, at the same time, to coexist with the rest of the group of colleagues. This is encouraging, you realize that we have a lot to say as design market".
When asked about the immediate future of his brand. Hidalgo indicated that his next step will be "to reinforce the concept, to let everything that came up with this collection grow. We have a rich language of resources, of concepts regarding textiles' fusion and rubrics with a sport and casual impression. There is a lot to improve but, despite everything, the surprise of telling a new story is the richest part of the process".
https://www.facebook.com/BAFWEEKoficial/videos/1514132268612653/
Kalu Gryb
Carla Gryb and Mariana Acevedo studied clothing and textile design at the Popular University of Resistencia, in Chaco province (located in the northeast area of Argentina). Their brand, Kalu Gryb, is focused on the respect of basic values to relinquish the human being, to let him go lighter, and to break the current cycle of consumerism by creating long enduring products.
They work under the same concept for a year, escaping fashion production schedules. Kalu Gryb uses materials from a textile cooperative from Chaco called ININBO and threads from Corrientes. A fragmented morphology, linear work, geometric forms and asymmetry are their guidelines, being also the main features of natural textures.   
A campo abierto (At open field) is the name of their collection, presented on the 10th of August. It was based on the following concept:
"Bare soil, it releases a deep whisper, stirring a cloud of brown dust. In its wisdom, nature announces a new cycle: the fallow. It's the moment to let the land rest after such an intense cultivation, to allow its renovation before the harvest season.
I move on the surface, letting my thoughts flow with the wind. This comes out from behind the infinite horizon. I feel the cold running through me and stop, I contemplate my surrounding and a wise message from the creation is revealed before my eyes.
It's time to rest. The strong breeze rocks the cloths that move freely, and they hold kindly this moment of calm or this encounter."   
On the runway, a remixed version of La valse d' Amelie sounded loudly, beginning with string instrumentals and ending on a much more electronic note. Meanwhile, the models showed a collection that, even though it was inspired by countryside, turned out to be quite urban and cosmopolitan.
Sharp tailoring manifested on a notorious and continuous variation of the classic shirt; waistcoats, tunics, palazzo trousers and dresses were the principal pieces that were translated into an ethereal silhouette with flowing movement. This could be considered as nothing new in the fashion world, yet each piece was impeccably executed, with ordinary but neat terminations.
Some of the aesthetical resources displayed by the creative duo were layering, cut-outs and the mix of textiles in the same garment, combining materials such as cotton, linen, wool and leather. The effect of the latter was quite remarkable; it resulted with the clothing looking different from the front and the back. The colour palette was conceived as a reflection of Kalu Gryb's region of origin: white, beige, light blue, grey and pale pink; all in desaturated tones to keep in harmony with a minimalistic spirit.
"In our opinion and as part of a fashion brand, clothing is meant to be used and lived. That's the reason why we respect the body, creating garments that accompany it and turning to textiles with a pleasant touch to the skin. Lastly, we seek to transmit emotions through the stories we tell, which are based on a search that is born in our surroundings and mixed with our own life experiences, giving rise to our identity", declared the creative duo.  
Concerning their presentation, they said: "We consider BAFWEEK as a great diffusion platform on both the National and Latin American level, due to the presence of press summoned by this event. Furthermore, it represents an opportunity to bring our brand closer to the Buenos Aires City user because we design and produce locally in Resistencia, a city in Chaco province".
Gryb and Acevedo revealed that Kalu Gryb is going to take part in an Argentine space at White, a trade fair in Milan, in September. "White is not only one of the most important trade fairs of contemporary fashion but a cultural reference for an entire generation of designers, stylists and artists who consider it a valuable kick-off field. Not to mention the fact that due to a strong strategy that targets buyers, this event counts on the presence of more than 20,000 buyers from all over the world and approximately 1,000 journalists. As a brand, this step will allow us to make direct contact with counter parts potentially interested in our products, making possible sales and our entrance in a new market for us, as well as make Argentine design known." 
https://www.facebook.com/BAFWEEKoficial/videos/1516139248411955/
Speranza
Sofía Speranza is a clothing designer graduated from UBA, where she is now teaching as a fellow of Textile and Clothing Design under Jorge Moragues' professorship, one of the most renowned of said university. Her brand, Speranza, has the following slogan: "garish garments, for colourful souls", an apt description.
La Speranza de Recoleta (a pun with Hope of Recoleta and the designer's surname) is the name of the collection that presented both women and menswear. The underlying concept was to give life to the religious and baroque statues from the Recoleta Cemetery. The iconic site from Buenos Aires City was transposed into clothing in a pop and kitsch style, which could be easily identified as Speranza's personal mark.  
The sound of loud bells marked the beginning of the show, followed by Depeche Mode and Personal Jesus, which seemed like an ideal choice for the theme. The models emerged with a clear bravado attitude and accessorized with big furry hair bows. Shoe wear was provided by Topper on an announced collaboration. Volumetric, oversized pieces and a crossing of rubrics such as denim-wear and sportswear ruled the catwalk. Speranza stood up as a brand that offered an extensive diversity of types of garments.
If you had to define the proposal in one word, it would definitely be "excess". Colour blocking of saturated and contrasting tones over black gave the sensation of a colour explosion. Stones, chains, flowers and acrylic letterings were the elements of an exaggerated ornamentation. Apart from this, there was a great variety of textiles: bright ones like leatherette, patent leather, glitter and vinyl; soft ones like silk, crepe and muslin; and fluffy ones like matelassé and plush.
Two constant elements were the common thread of the collection: crosses and prints. The first one was seen in all sizes and applications, even hanging on helms. The second one brought the cemetery statues back to a shiny life.
"Clothing is the material extension of our thoughts, feelings and ideologies. It shows how we feel and how we express ourselves in society. I aim to communicate through clothing and a non-verbal language and to transmit life situations and experiences. Moreover, I am looking for an identification and feedback from the public, since design is a form of social art and so, there's no design without receiver", said Speranza.
She went on, "I like knowing that people have fun and smile when they see my clothes, that I generate a surprise and an attraction at the same time. I also love that they feel encouraged to use colours and exaggerated pieces for any time of the day and love to be greeted with a kiss and a hug. To know that a garment made a consumer happy, that filled his or her day with joy and colour, is to do a good deed for society. There are no smiles without colour, and no happiness without smiles. This is my way of thinking. My garments are garish, for colourful souls".
Then, the emerging designer commented with reference to her selection and participation in BAFWEEK. "After many years of labour and university sacrifice, having been selected by the CMD was the greatest reward. We usually tend to complaint about a lot of things and trust in few ones amidst the routine and everyday whirlwind. In consequence, I had decided to resign at a tenure position from many years in last April and to bet on my own brand. Then, I applied to Pasarela BA and was chosen as one of the four winners. This was an enormous door to express myself freely within BAFWEEK, to get to thousands of people and thus leave my print on the most important runway of the country. It felt like a personal liberation to be able to create an entirely pop and ultra-modern collection within an excessive minimalistic framework. I believe that it turned out as a great speech amongst a style routine: people needed to relax and have fun without prejudices and to be soaked in colours. I'm grateful because there were lots of people that felt identified with the style, that came to my stall to take a closer look at the clothes and inquired regarding future showrooms. It was a huge step to have my brand became known and to leave an open road to a worldwide trend: pop-style".
The future definitely has something interesting in store for Speranza. She is currently preparing showrooms with colleagues Matías Hidalgo and Emilse Benitez. Besides this, she has proposals to create costumes for national rock bands. "In addition to this, I am already thinking and sketching the next collection, for Autumn-Winter 2017, which also has to do with an icon from Buenos Aires City. I'm attracted to national places or themes, which encompass a general interest and a strong identification. However, my challenge is to go through them with my ultra-modern pop style; always adding a pinch of humour and irony, a distinctive trait of my personality".
https://www.facebook.com/BAFWEEKoficial/videos/1536040283088518/
Abre
Luz Arpajou and María Laura Leiva are the clothing designers behind Abre. The label amalgamates clothing, art and nature from its place of origin, Neuquén province (located in Patagonia region). As a result, its clothes become connected to their context. Each piece is made by Abre's own team, with noble raw materials elaborated to endure the test of time. The creators believe that users make the experience complete, ending the cycle.
This was the second time Abre has been chosen to participate in Pasarela BA's runway. On this occasion, they had the responsibility of closing the Summer-Spring edition on the most crowded day, Friday the 12th of August. Las partes del todo, es todo hasta ahora (The parts of everything, is everything up to now) is the name of Arpajou and Leiva's collection of men and womenswear. The following is the statement used as inspiration:
"The parts of everything, is everything up to now.
Now that we wonder how to go on,
Now that we wonder how to grow a little more.
We see again, we recognise ourselves.
Each phase, each drawing, each fabric, each thread, each sense…
Abre, where everything converges, to initiate the way to the reencounter, to walk and retrace the way.
We come back to basic garments, to the origin, to the human being's uniform, to general.
We built our Patagonian images from the very same fabrics that materialize this collection."
Once the lights were out, a short film started playing on screen, showing everything that happens behind a knitted garment: from the breeding of sheep and goats, to the final touches of the piece, as well as the whole process of natural fibres in between. Then, live music by Diego Pérez from Nación Ekeko, which sounded like a mix of folklore and electronic genres, began to play. The models appeared from backstage, walking in slow motion as if they had all the time in the world.
What came next was a fine example of minimalistic tailoring, deeply rooted in Neuquén. The colour palette mimicked the image of a desert: black, blue, grey, beige, brown and white, all in hard-wearing shades. Abre displayed wide and straight silhouettes that were mildly adjusted to the body through pleats. Linen, cotton and muslin were used to create universal pieces such as shirts, blouses, jackets, skirts, kilts, trousers and jumpsuits. The characteristic details from this collection were the superposition of garments, pockets, some sheer clothes and, above all, prints of photographs from landscapes turned into small patches.
The female models had buns or sleek hair and nude make-up with dramatic lines on their upper eyelids. What was striking, since it rarely happens on Argentine runways, is that the models had a real variety of ages and body shapes. As a result, it was demonstrated that Abre's clothes are truly meant for a comprehensive range of users.
The show began and ended on the same note, with a man and a woman walking in sync. Then, Arpajou and Leiva appeared and gave each other a warm embrace while the audience clapped enthusiastically. The victory was theirs, as a second ovation was held when the room was dark again.   
"We want to transmit values such as simplicity, identity, inclusion and southern poetry", said Arpajou and Leiva. In reference to their passing through the runway, they answered, "Fundamentally, BAFWEEK is a great display window that allows us to transmit our concept and to communicate with different people, besides our clients". Abre's next step is to open an e-commerce shop in order to be able to reach potential clients from the inland of the country.
https://www.facebook.com/BAFWEEKoficial/videos/1519083911450822/