Once you take a look at La Percalina's shop window and step inside, you instantly come to a different world. You become surrounded by magnificent clothes and accessories from other epochs and witness the fierce passion behind the business. As you go downstairs, your steps are accompanied by old numbers from the local magazines Para tí and Labores, setting the mood. A long, antique counter displaying graceful hats, headdresse,s and other accessories receives you. Then, you are welcomed to examine two corridors where the old wooden hangers keep the real stars of the place.
La Percalina is set in Abasto, a zone of Buenos Aires City away from trendy neighbourhoods and in the heart of Tango history. Perhaps that is one of the variables that adds to its charm and power of time-travelling. The store was founded by two friends, Alejandra Agüero and Virginia Del Giudice. Nowadays, it is run by Virginia, who received us with a great smile and showed us her work.
The beginning of a journey
Alejandra and Virginia are two friends who got together one day and decided to start a project together. Actually, they had the idea to sell clothes from other eras, but didn't have a clue of how this would turn out in reality. The pair wanted to open a vintage shop, and the neighbourhood did not have a nice one.
In contrast with older clothes, massively produced garments are designed and elaborated to be used on few occasions and be disposed of. As a result, low-quality clothes do not deserve the time we may spend restoring them. "The garments that are kept on wardrobes are the one that we're looking for, such as the blouse that was a gift for your grandmother from your grandfather back when they were sweethearts," Virginia tells us.
Then, they noticed that the clothes they liked the most were made by dressmakers. "We discovered that there were many great and anonymous dressmakers until the 1960s, who aren't appreciated. Clothes used to be made with European moulding but with national workers, who frequently were immigrants from said continent. There was an extremely specialised workforce here that is reflected in old wardrobes." After shopping and reflecting on what were best sellers and what they wanted to restore, they realised that the oldest pieces were the best ones.
So, the main idea behind La Percalina is to find and rescue special garments. "Sometimes they are for sale, and sometimes they aren't. Sometimes I buy articles which I know for sure that won't be sold and I don't care. It remains as a part of the place. Maybe I find something really beautiful but think that no one would wear it. It is marvellous, so I decide to buy it anyway." Nevertheless, Virginia confesses that some things were sold in spite of her belief. And that hers is not a very commercial concept, but deeply related to passion.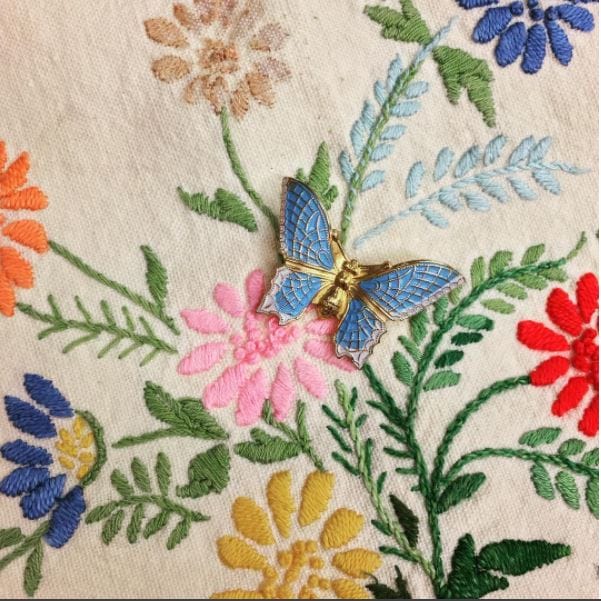 Back to the past
Excellent manual work in dressmaking is one of the main values that stand out on the hangers. There are only few garments with important known labels at La Percalina. This is the result of the said scheme aimed to recover the anonymous work of local dressmakers. "I search the names in the labels through the Internet sometimes, and they are not even mentioned by their relatives. There are important dressmakers regarding the quality and design of their creations, but they cannot be found in records." And when it comes to chronology, the pieces are as ancient as can be found and up to the 1970s. "I lived the '80s and hated that fashion," recalls Virginia.
Not only does La Percalina have its own women clientele, but there are also many men that visit the store in search for pieces for their girlfriends. People come looking for something that changes the dynamics of a contemporary wardrobe of garments manufactured in series, through special details. And they all receive a warm, patient, and honest treatment: "Clients would buy once and come back because they are not rushed to shop; I won't say that something looks great on them when it doesn't; and I won't suggest having it modified if it doesn't fit because it simply won't work."
A special feature of the place is, doubtlessly, its shop window which has lots of admirers. Virginia conceives the display down to the last detail, to suit a theme and changes it from week to week. This could be considered a lost art in Buenos Aires, a city where all showcases look similar. Recently, the space was thematically decorated with aprons. "I planned the apron display many years ago, because I needed fifteen to twenty pieces from different epochs. They had to be nice, be in conditions and match as a group. I put together the displays ahead of time, for the pieces 'to become friends and have grace."  
Even the mannequins are antique at La Percalina. They are English and used to be at Harrods Buenos Aires. Then, they were at Casa Leonor, a store from the '30s and dedicated to domestic uniforms, and that's why they were named as "Las Leonoras". "I bought two Leonoras, when they were downsizing. The brunette is called Linda because she's gorgeous, and the one that looks serious is called Fräulein (she looks like a governess). After a while, I bought an Argentinean mannequin and named it Leonor, so that she doesn't feel different." She laughs.
The assortment of treasures
In order to fill La Percalina's hangers, clothes and accessories are looked for everywhere. "If I go past a vintage store and they're selling something that I like, I'll buy it. If it's expensive (and my profit will be low), I'll acquire it anyway." Then, she gets tip off by other antique dealers on potential sells. "In this circle there are many people that aren't so honest in their purchases, and the word is out. When someone buys in a respectful manner; that is also known. So, many people call me to offer their old clothes, I go to their houses and examined their wardrobes." Moreover, everything is bought in Argentina: "When I'm travelling I buy only for me. It is much easier for me to visit fairs or stores and buy here. Also, I love when foreign people visit La Percalina and see clothes that can't be found in their country."
Reading this, you might think that anything can be found on the hangers. However, the criterion is clear: vintage articles have to have a great design, material, or manufacturing (all three of them, if possible). "This is not a museum. If something can't be washed because it would get destroyed, I don't buy it. If it gets torn or discoloured in the process, I won't sell it."
Generally, the garments and accessories selected are considered as something easy to wear. There are only a few evening dresses at the store, because those "are more difficult to wear, I can't find them fun and they seem artificial." The exception is something more daring that causes a shock: you don't know if you'll ever wear it, but is extremely marvellous. "Other times, I look at the piece and think this is crazy, it must be a joke, but I acquire it to put it in the shop window and make people laugh. And when that happens, it's a success."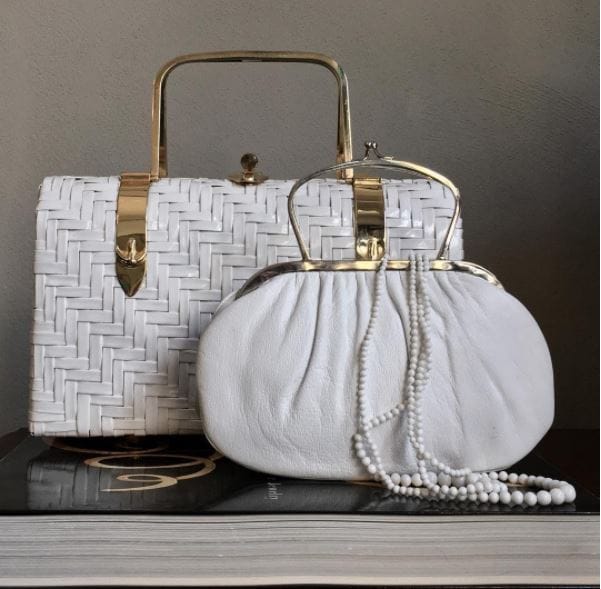 A second life
Once a garment or accessory enters the store, a comprehensive process is triggered. First, the garment is put on a hanger or mannequin and drawn in a notebook. Then, it is analysed by Virginia, who determines which decade it belongs to. Sometimes the garment appears to be from one, but it is not; it has a similar design or has been reformed. She observes the label; if the garment has holes or stains and marks them with a thread. After this initial exam, a code number is given and it will follow the pieces until the final stage in the store.
Soon after, each piece is hand-washed with neutral soap and a second look at details such as seams and bottoms, for instance, is taken while ironing. This means also buying haberdashery, threads and old sewing boxes with their contents. "I keep it on a chest of drawers while it waits to be restored."
The restoration is hand-made because it is easier this way and it must be done carefully. "I have a sewing machine and I used it only twice," says Virginia. Moreover, she detailed the use of a museological criteria, but with some flexibility. "For instance, a garment has all its buttons. They fit the decade of origin so I just secure them with stitches, even though I don't really like them. If they are too common and I have better ones from that same epoch, I replace them."
When the reparation is completed, the garment is ironed again and the search for a suitable identification label begins. These labels are also hand-made, with cut-out images from an old encyclopaedia. Thus, the image matches the garment in colour or spirit. The price is written, alongside a descriptive (but interesting) or amusing phrase. Then, it is hung for the public to see.
After a customer selects it, the receipt is made and the acquisition is recorded in Virginia's notebook, to guide clients with their next purchases. The label with the article code is unstitched. The piece is perfectly folded and wrapped with dotted paper. The black and white card of the store is placed, alongside a smaller one that reads the slogan: "Moda fuera de moda" ("Fashion out of fashion"). A small bag of organic lavender is always included in the package, which is closed with a ribbon and handed over. "An acquaintance told me that I should use shopping bags. Dresses are so precious to me, that I continuously say that you must take them home as if they were a package of meringues. You don't shove a package of meringues in a bag; you carry it with your hands. We've lost the joy of shopping for clothes. In the past, you waited for your birthday to receive a watch. How many watches do you have nowadays? We have to learn to need fewer things and love them more."
The prices at La Percalina are quite dissimilar: there are amazingly inexpensive things and others not affordable. All garments are treated as special, and maybe some are lovely and enjoyable but they are common and there is a bunch of the same. As a result, those have a reasonable price. In contrast, the garments that took more hours to be restored are more expensive because of that. However, if the restoration result is not so good, the price lowers despite the working hours put in it. As defined by Virginia, "I prorate in a personal and subjectively manner of what I believe is the value of each piece."
The first life of the vintage articles is never revealed. Virginia doesn't tell the customer who that garment belonged to or its previous history. "I believe that it must have a new life and circulate free of its past. I feel thrilled when a garment comes across with its soul-mate, to be witness of the union of a restored dress and its new owner. I don't feel the same by just looking at a particular piece. There are clothes that may not seem so important, but they make a girl happy and they tell me about it."
A unique value
We have already explored the reasons for opting for vintage fashion here. In short, we have exposed that vintage fashion has charm, quality, and shows both sustainability and affordability. Virginia also explained her overview on the matter.
As she told us, each dress comes with a learning process: each one is a manual of what it was to sew in that epoch. "A dress is a time capsule: there's a design that tells you something social and political, the fabric has a particular raison d'être, the industrialisation of textiles says another thing, there is a concept behind the chosen thread to be used in the inside or outside of the piece. You can learn history and many more things from a dress." Virginia detailed.
Furthermore, vintage fashion refers to our childhood, to a ludic world, to stories and ideals, to something magical. In addition to this, she once read an investigation online that stated that the first things that human beings have recycled in history were textiles. "If you had to hunt an animal, kill it, take its leather or fur, cut it, knitted or more to turn it into a garment; you won't throw it away easily and will find another use for it. And if you pay attention at museums, ancient textiles always show patches."
Besides, we discussed the logic of it: to think that something lasted 50 years because it was excellently manufactured and surely will stand for many years more than a product that was meant to be discarded after three or four outings. "Moreover, the cost is really important and I would want the equivalent for my money, which was earned through hard work. For example: a transaction means three of my working days' pay in form of a bill, in exchange for a t-shirt produced in a series of millions at a factory full of slaves, made with a low-quality material which will get lint in its surface as soon as I take it out of the washing machine. You are not giving me the same value. So, when you buy a dress from the '50s for the same money, it is giving you, in fact, more value for your money. Apart from all of this, you are face to face with the person that bought, washed, and restored the garment. So, vintage fashion is free of slavery workforce and more honest."
Then, there's a revival or fashion trend of vintage. Many actresses and celebrities have worn vintage clothes these past years and they inspire trends. "And we began to realise that there's no sense in having a designer telling you that 'today red is in fashion', if I can wear whatever I want to and be independent from it. As a result of this thought, I can wear what is fun for me."
And back to the subject of this article, La Percalina is a small undertaking, a single-person space. There are exceptional pieces and it is a store where craftsmanship in dressmaking is highly appreciated. "I am extremely happy when I'm here. I love my work and I don't feel like leaving. There hasn't been one day in five years when I didn't want to come to work or didn't want to stay here after opening hours. And if this doesn't make me happy anymore, I'll find another job. We spend too much time working, then sleeping and maybe you wonder 'When do I live life?' You must live while you work, having a great time and fun while learning."
As Virginia states, people come back to the shop and say that there's a special climate here, that the concept behind it is great, that prices are reasonable and in line with the products. "If a piece of clothing is spectacular, then it's not expensive: it has a high price. And if you come with a small budget, there's always something you can take home with you. It is always delightful to find a lost treasure and enjoy it".