In the last decade, Buenos Aires has been developing a strong fashion identity. The 2001 economic crisis left the country with many great struggles that had their impact on the fashion industry. International luxury brands were forced to abandon Argentina due to the adverse circumstances. However, even in the middle of the storm, emerging fashion designers found the opportunity to set up their own businesses. Designers, now highly acclaimed, such as Martín Churba of Tramando, Jessica Trosman, Pablo Ramirez and Kostüme, among others, laid the foundations to establish a national high-end fashion industry.
During this decade, the growth of this market has been notable. This phenomenon can be explained by the rise of fashion-related courses and protectionist measures enacted by the government. This, together with a growing interest from the youth in creating and developing their own brands, has led to an impressive increase in the number of emerging brands, founded by designers between twenty and thirty years old. Although they have the advantage of social networking and online shopping to promote their creations, these designers have the necessity of opening stores where buyers can go, see and touch their products. Consequently, this has caused the development of boutiques specializing in Argentinian emerging design. Palermo, Recoleta and downtown Buenos Aires are the neighborhoods chosen by these creators to establish their businesses.
Many of these young talents opted to share their stores with colleagues, in order to show their work together. In addition, businessmen related to the fashion industry saw the opportunity to invest in local production. As a result,  during the last five years, the expansion of fashion boutiques has been noticeable. Panorama, Editor Market and Hectarea BA are three benchmarks for upscale local design. Each of these stores have their own identity, but share the same goal: to promote Argentinian design for tourists and locals.
Panorama
Panorama ( 2905 República de la India Street) was the first concept store in Buenos Aires. It was opened in 2012 by María Lee and the fashion designers Juan Hernández Daels and Paula Selby Avellaneda. Located in Palermo Zoo, a posh area next to the Buenos Aires Zoo, Panorama curates the best of Argentine design, selecting the most outstanding clothes, shoes and accessories from emerging talents.
Lee, Daels and Selby Avellaneda have the experience to do this. The three of them studied and worked abroad before returning to Buenos Aires to establish their own brands and businesses. Maria Lee is the Argentine Ambassador for Opening Ceremony and also has great experience working in Public Relations and managing projects. On the other hand, Juan Hernandez Daels and Paula Selby Avellaneda are fashion design graduates of the Royal Academy of Fine Arts Antwerp and have their own brands.
The three associates have extensive knowledge of the fashion industry and what's best for emerging designers who are trying to start their own brands. That is why Panorama is much more than a store. The boutique is a small part of Panorama's world: aside from the store, they are a channel to connect designers with international buyers. In addition, Panorama helps designers promote their businesses abroad, organize meetings with buyers and set up consultations. Panorama also plays an important part in presenting Argentinian collections in fashion weeks around the world. Panorama is an enormous project that believes in the talent of Argentine designers.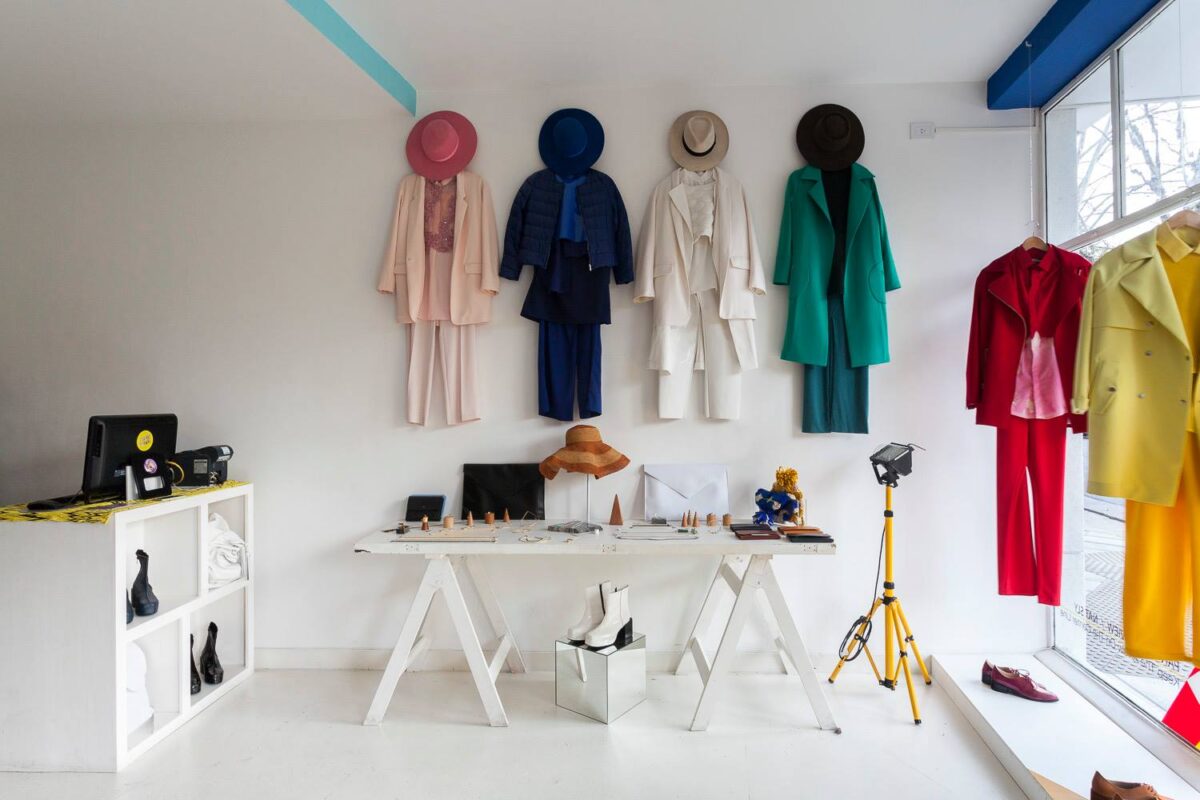 With more than forty designers, Panorama's philosophy is to create a curated selection to show the best of Argentine design. The main goal of the store is to help, stimulate and strengthen local designers not only in Argentina but around the world. They look forward to creating a national identity that can be recognized internationally for its innovation, originality and high quality. Panorama defines itself as the most Argentinian store in the world and takes pride in this title.
One of the latest projects of the boutique was to create a limited edition sneaker with Topper, a traditional Argentinean sportswear brand. Reflecting the beliefs of Panorama, this alliance merges an iconic and classic sneaker with a strong and modern trend. The limited edition 500 pairs could be found only at the Panorama store.
The boutique is the favored spot for everyone  looking for unconventional designs. It is arranged to look more like an art gallery than a retail store. The minimalist style is contrasted with the clothes and accessories that work as decorations in order to make a big impact on visitors and buyers. While browsing through Panorama's racks, the diverse styles of designers is impressive. The loud colors and prints of Vanesa Krongold and Bandoleiro, the delicacy of Galaxia Couture and the muted palettes and relaxed silhouettes of Schang Viton and Boerr-Yarde Buller coexist in harmony with a variety of shoes and accessories from Pimpi Smith, Chicco Ruiz and La Bembè, among many others.
Editor Market
On the corner of Corrientes Avenue and San Martin Street, a rationalist building imposes it presence. In the newly renovated 1940's edifice lives Editor Market, the first department store featuring Argentinian fashion and interior design. The store, which was inaugurated in November, has the mission of curating and selecting the best of Argentinian womenswear, accessories, menswear, home-ware and kids' fashion.
Editor Market is aimed at a public, not necessarily from the upper class, that is interested in design and the latest trends. They want everyone to live their experience and enjoy it. That is why the store is located in downtown Buenos Aires, an area visited by thousands of people every day.
Spanning nine stories, the concept of the store is that buyers find what they need under the same roof while discovering and wandering through the floors. In Editor Market there are no walls; the objects are organized by themes and each floor has its unique decorations. However, the modern and fresh spirit of the store can be seen on all floors. The selection of the store combines the best of commercial brands and author design. Brands such as A.Y. Not Dead, María Cher, Rapsodia and Dr. Martens are mixed with items from Jessica Kessel, THEM, Garza Lobos and Blackmamba.
The concept of Editor Market was born many years ago with the objective to display the works of talented Argentinian designers. Its owners, Gabriel Brener and Maria Cherñajovsky, decided to set the store in Corrientes Avenue in order to showcase the historic avenue and redefine it. While walking down the avenue, Editor Market captivates the attention of every pedestrian and invites them to enter the building. The first thing that is seen is the store's coffee shop which has its own blend and barista. Beverages can be enjoyed with a wide variety of sandwiches, salads and baked goods. After having a snack, visitors are invited to look around the store.
Editor Market's first floor is dedicated to beauty and womenswear. After taking the lift or climbing the stairs, a second floor of shoes and womenswear can be found. In this area the real mixture of brands can be seen; denim, cocktail dresses, shoes and bags create a unique atmosphere. On the third floor, neatly decorated with white structures that work as frames to the clothing, as if in a museum, high-fashion and author design items can be found. This story is where items from designers such as Fabián Zitta, Marcelo Giacobbe and House of Matching Colors are displayed.
Menswear items can be found on the fourth floor, which has walls painted with bright colors and an eclectic style. With a soundtrack of loud music, men can shop for clothes, shoes and accessories from brands like Garcon García, Rochas and Key Biscayne as well as designers like Hermanos Estebecorena or  Terrible Enfant. The next three stories are for house-wares; from candles, sets of dishes, fragrances, bedding, wallpaper and furniture, everything is ready to prepare a trendy home. The style of Editor Market's interior design is modern, simple and warm. Finally, on the last floor, kids are the protagonists. The selection of toys, clothing and furniture is wide and original, everything is carefully hand-picked by the store's curators. The attention to detail is present in every corner of Editor Market; while observing the pieces selected, it can be noted that the store's curators carefully chose each item to achieve a modern, fresh and upscale style.
Hectárea BA
Alvear Avenue is synonymous with glamour in Buenos Aires. In the 19th century, this avenue, located in Recoleta, was the hotspot for wealthy families to build palaces. These buildings have since been transformed into museums, public offices and boutiques. The presence of fashion designers on this avenue started in the early 1990s, with the establishment of brands such as Versace, Hermes, Louis Vuitton and Prada, among others. However, after the 2001 economic crisis, many of these luxury brands were forced to leave the country and the avenue was transformed. Local designers chose the vacant stores to set up theirs. In recent years, Alvear Avenue was renewed into a center of upscale fashion by Argentinian designers. Cardon, Tramando, and Benito Fernández are some of the designers that started the renovation of the neighborhood.
The revamping of Recoleta is being completed with the establishment of young designers, who have chosen this area to set up their boutiques. Last December, Hectarea BA, a design circuit featuring four stores and seven designers, was inaugurated. Juan Hernández Daels, OLDI and Matute, Lucas Sánchez and Andrea Urquizu, and Lena Martorello and Belén Amigo joined forces to create this project with the objective to show their work. In the words of Urquizu, "We wanted to make some fuss because it's rare to reunite different designers. Since we are designers with different styles, the idea is to communicate that we are new and we make unique pieces; to join forces to show who we are, each one with his own style. To make people understand what author design means and that we are distinguished from the other clothing brands in the neighbourhood".
These designers chose Recoleta because it is the neighborhood where there are no commercial brands and where small brands and author designers have settled. The four stores that are part of Hectarea BA are within a walking distance that can easily be covered by anyone who wants to see design products and unique creations. Each store has its own identity matching the designer's style. For example, designers Lena Martorello and Belén Amigo are characterized by their relaxed silhouettes and their store reflects this. The big, bright boutique, located at Talcahuano 1287, was once an art gallery but now looks like a renewed loft. The tall white walls are decorated with boards and lamps that are suspended from the ceiling. Some of the clothing hang from these boards like paintings and others from metal racks. While both designers have something in common, each of them has their own aesthetic.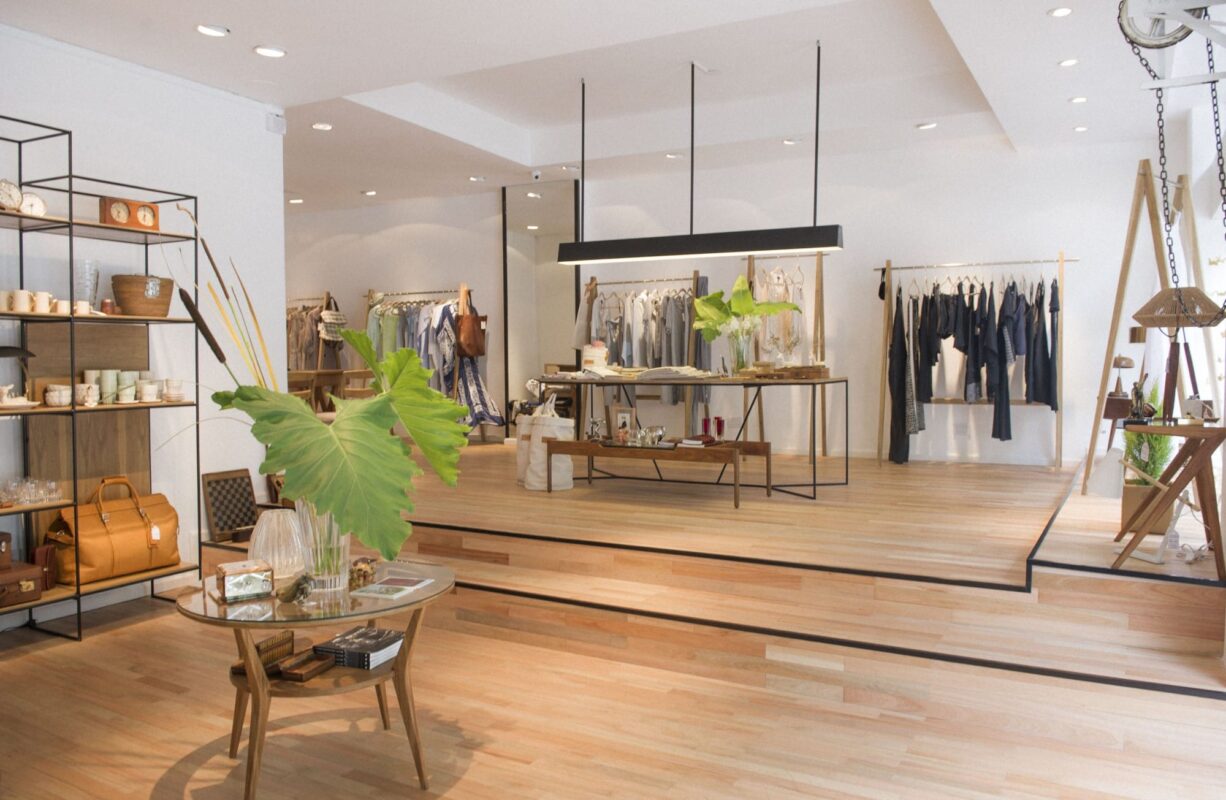 Lena Martorello's clothes are recognizable for their loose silhouettes made of natural fabrics in neutral tones. The designs created by Joan Martorello y Martinica Lena are inspired by dancing and Japanese designers like Rei Kawakubo and Yohji Yamamoto. As a result, all the pieces from the brand are cozy, simple, rustic, warm and perfect for a lazy Sunday.
What Belén Amigo's clothing has in common with Lena Martorello is the silhouettes. However, Amigo focuses on creating comfortable and flexible clothing that can easily be adapted to different body shapes. Her designs seem simple, but the work done to achieve the silhouette is precise. The silk dresses in jewel tones and gunmetal are exquisite and special pieces, that flow with the movement of the body.
Around the corner from Belén Amigo and Lena Martorello's store, at Juncal 1309, the boutique shared by designer Andrea Urquizu and shoemaker Lucas Sánchez can be found. This space is much darker and more rocker, in tune with both designers' style. Andrea Urquizu is a clothing designer who finds inspiration in music to create her collections. Her pieces are characterized by the use of black and white and the detailed embroidery that creates the illusion of 3D textures. Urquizu's silhouette is identified by classic tailored structures which are combined with modern elements. Her partner, Lucas Sánchez, specializes in unisex shoes who are recognizable for the use of loud colors and extravagant textures. Sandals, brogues, heels and creepers are made in different hues ranging from the classic black and brown to neon yellow, silver and gold.
The next store in the circuit is Juan Hernández Daels', located a few meters from the shopping Patio Bullrich at 1696 Libertad Street. Hernández Daels opened his store in May of 2015 and it is the biggest boutique of Hectárea BA. After graduating from the Royal Academy of Fine Arts Antwerp and establishing his business in Paris, he returned to Buenos Aires to set up his brand. Juan Hernández Daels takes elements from men's tailoring and adapts them to women's silhouette, achieving precise and sexy dresses, blouses, skirts and trousers. The polished looks are constructed in silk, organza, gauze, and leather. The colors used by Daels are mostly black, white, blush pink and blue although there are some abstract printed items. Apart from his clothing, in Daels' store there are also shoes from the Uruguayan brand MUTMA and lingerie from Belleugene. 
Hectarea BA's circuit is completed with the 1902 Montevideo Street boutique shared by Mutate and OLDI, an interior decoration and a fashion design brand, respectively. Matute is a Uruguayan brand created by Gonzalo Massa that specializes in curating objects from various brands. However, the most attractive part of this project is their line of vintage findings. In the store, a medium selection of one-of-a-kind watches, purses, and other objects can be found. On the other hand, OLDI is a brand created by Catalina Richini. The designer focuses on making high quality basics that are easily adaptable to every style and moment. OLDI's pieces are unique and every one of them is dyed and embroidered by the designer, making the each piece a example of artisanal work.