Anni Ruuth, a dream garment designer whose work captivated the world's youngest prime minister.
On Sunday 2 August 2020. Finnish Prime Minister Sanna Marin, the world's youngest Prime Minister at 34, is now married to her longtime boyfriend and former Finnish soccer player, Markus Raikkonen. In an intimate ceremony, Marin and Markus took their wedding vows at Kesäranta, Ms. Marin's official residence. The couple, who have a two-and-a-half-year-old daughter together were joined by their family and closest friends to celebrate their special day.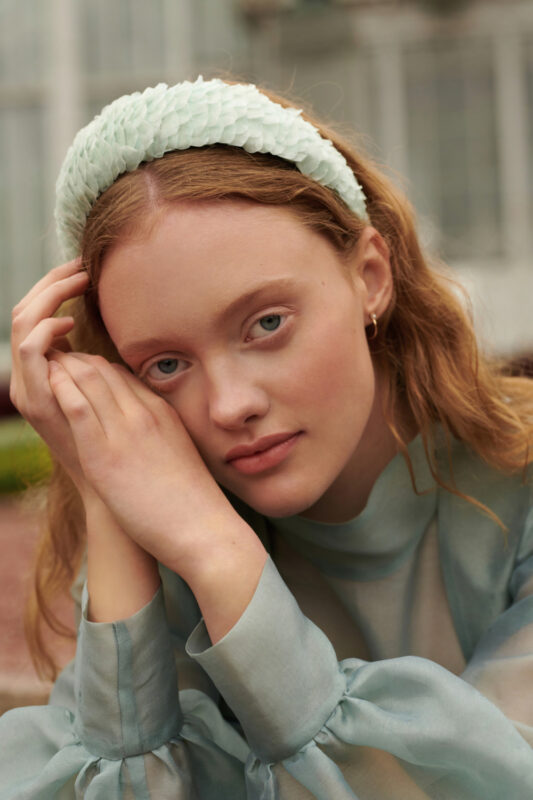 As a fashion lover, I realized that the dress that Marin wore reflects the essence of Nordic fashion, another success of this important leader, "supporting the fashion of her country." Her dress was designed by Anni Ruuth, a Finnish designer based in Helsinki. I wanted to get to know deeply the designer who was behind the beautiful dress of the youngest prime minister in the world. I discover Sanna Marin is an advocate of sustainability, in every way including fashion, find out why.
"I have felt uncomfortable with the fast rhythm of fashion and seasonal trends. I don't really like the word fashion or trend. I would like to talk about style as a form of self-expression"
Anni, as a child, you sewed clothes from plastic bags. Now you design and wear timeless clothes. Did you always know you would turn into a fashion designer?
As a child, I may not have been able to verbalize it, but the desire to do something visual was already visible in me as a child. Even as a child, I loved flowers, nature, old movies, and playing was my way of creating art. I made sculptures from the elements I found from nature, I drew a lot and dreamed of different realities.
 Tell we about your background did you launch your brand after you got your Bachelor of Arts and Culture, Fashion Design focused on Fashion and Clothing Design from Lahti University of Applied Sciences?
I graduated Dressmaker 2009 and after that, I had a gap year when I worked in a clothes shop and a cleaner. After that, I studied clothing design at Häme University of Applied Sciences for a year. Anyway, the study line was too technical for me and I hoped for a more creative learning environment. In 2011 I started my studies at the Lahti Institute of Design, where I graduated in 2016. During my studies, I had a year off when I worked for a Finnish fashion company as a studio assistant and went on a long trip to Asia to get a new perspective on my design work. After graduating, I worked as a freelance designer for several different brands and a while as an in-house designer as well. Besides to my paid work, I constantly worked on my brand. In the fall of 2018, I turned a new page in my life and decided to give everything to my brand. I will not regret that decision for a moment.
Your the brand just designs a collection per year and the pieces are made for request and produced in Helsinki, Finland, why did you decide to have that model of business?
As long as I have been working in the fashion industry, I have felt uncomfortable with the fast rhythm of fashion and seasonal trends. I don't like the word fashion or trend. I would like to talk about style as a form of self-expression. I love the feeling that every product my company produces goes directly to the customer and for use. The made-for-request based model has also enabled the company to grow without taking large financial risks. We avoid large stock levels and keep purchases as small as possible. Made-for-request based model also allows for flexibility and trying out new ideas even on a fast schedule. If I get a new idea today, the first sample may be ready tomorrow. Of course, we do product development for quite some time before a new product ends up selling.
"Self-confidence inspires and strength to be completely your own self. Art in all its forms inspires"
ANNI RUUTH is well known for dreamlike feather garments and a delicate, feminine approach, for what kind of women, do you design?
Anni Ruuth's woman is a confident walker of her path. She loves to be seen and heard as her unique self. She is down to earth and soft in values. The dressing is playing for her and she doesn't take herself or dressing too seriously. She is a dreamer and lives passionately. She loves art in all its different forms. She is an adventurer. Even if I talk about the form she, I do not want to set Anni Ruuth people according to gender. It would be great to see more diversity in the Anni Ruuth customer spectrum.
For you, animal welfare and environmental sustainability is a priority what actions as a brand are you implementing?
Anni Ruuth's story began with researching responsible down material and whether there is one. My research revealed many disadvantages of down products such as live-plucking and forced feeding. At that time, I ended up using recycled down and feather material as a leftover product of the down industry in my thesis collection. The feather material remained part of Anni Ruuth's Swan collection and the supplier of the feather material is committed to working only with breeders who in turn are committed to the responsible treatment of birds.
In addition to feathers, I use ostrich feathers that have been collected from local farms in Finland. Some of the feathers are dripped feathers and some are collected after the bird has been slaughtered for food. The latest material in my collection has become a natural sequin, which is fish scales generated as fish waste. Fish are fished primarily for the needs of the food industry. I am constantly looking for new, more responsible materials. That work will certainly never end.
As a designer, what inspires you?
As cliché as it sounds, but people inspire me. Not just stylistically, but also how a person speaks and gestures. Self-confidence inspires and strengthens to be completely yourself. Art in all its forms inspires. Especially classical painting and classical ballet.
How do you see the future of fashion after COVID-19?
I believe that every crisis has the potential for lasting change, also in a positive sense. Covid-19 will certainly affect our buying behavior. We will pay attention to the origin, quality, and responsible values behind the product and the company. I also believe that the popularity of local production is growing.
"Sanna Marin is a very approachable and down to earth person. Working with her was easy and she was flexible when we needed few more fitting sessions"
You recently designed the dress for the wedding of Prime Minister of Finland Sanna Marin, how did the relationship start with her?  
The dress was designed for Sanna as early as 2018 when she was not yet prime minister. The dress was designed for her at the Finnish Independence Day Presidential reception. At that time, it was also known that she would wear the same dress on her wedding day as well. Responsible values are important to her as well as to me and that is why the dress was designed to use multiple times on different occasions.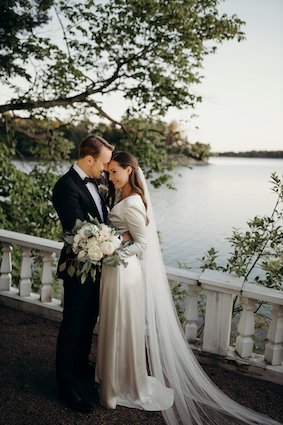 What was the process of making the dress?
The first criterion was that the dress should be suitable as both a wedding dress and an evening dress for other occasions. The dress was not allowed to look too traditional wedding gown. The design had to be modern and simple. I mainly use silk in evening dresses I design and we wanted to choose silk for this dress as well because of its beautiful glow and feel.
What did you want to highlight with the dress?
Despite the simple cut of the dress, the design has a lot of character inspired by Sanna's determined nature. Every detail of the costume was carefully considered and there were numerous fittings. The fit had to be perfect.
Was it a major challenge to work with the highest authority in your country, which is also the youngest Prime Minister in the world? How was your experience working with her?
As I mentioned earlier, she was not the prime minister at that time. The design and making process of the dress went well and she is a very approachable and down to earth person. Working with her was easy and she was flexible when we needed a few more fitting sessions.
Did it has any special meaning for you, to have been part of the most important day of Sanna Marin?
Of course, it was a huge honor to be the designer of her wedding dress. The dress has been one of the most meaningful jobs in my career.
Something else do you want to add?
I could finish by adding my motto "Good comes to good." I believe that by treating well other people and respecting our environment, we get a good back.