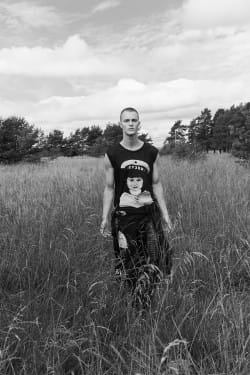 Entirely self-taught and passionate about clothing, Ainur Turisbek is one of Kazakhstan's most prolific and confident designers. Based in Almaty—the country's largest city, she gained experience working as a fit model for the likes of Gianfranco Ferrè fur. It was with the Italian maestro that she developed her understanding of volume, textures and proportions, which form the core of her eponymous line.
Dramatic, sensual and rigorous, her clothes exude femininity and strength. Envisaging fashion as an art form, she favors sculptural shapes and clear lines, emphasizing her desire for purity. She first presented her collection during the autumn session of Kazakhstan Fashion Week in 2012, quickly attracting the attention of press and buyers.
At the close of Fashion Week, Turisbek received a nomination for the "Best Debut of the Year" award. Despite coming across as minimalistic, her clothes are intricate and sophisticated, underlining the value of cut.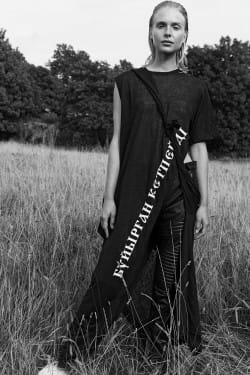 Her debut collection was inspired by The Godfather, Eastern philosophy and Samurai—as well as Uma Thurman in Kill Bill and gothic princesses—focusing on the tension between masculine and feminine. Sticking to a graphic color palette of black and white, and using menswear tailoring as a key reference, Turisbek made a strong statement about the woman she calls her own, someone who does not need frills or gimmicks to produce an impact. Superfluous effects and unnecessary details do not belong to her world, as she prefers to emphasize the beauty of the female form. The fact that Turisbek lived and studied in Switzerland—as well as in the UK and Russia—undeniably informed her taste and aesthetics, allowing her to achieve a powerful balance between East and West. 
Nature is a leitmotiv within Turisbek's work, which is infused with spirituality and a longing for justice. Her silhouettes aim for balance and harmony, while references to the animal world often appear in her clothes, from her unique use of leather and furs to the incorporation of python and crocodile. Working exclusively with natural fibers, such as silk, cotton, cashmere and wool, Turisbek is a woman of conviction, believing in fairness and faith.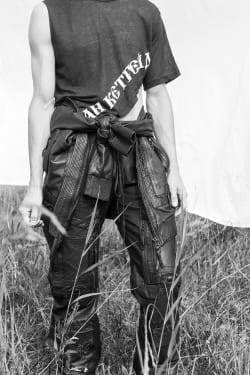 The Kazakstan-based designer's SS16 collection re-invents classic military and athletic themes with a bold graphic juxtaposition as Turisbek cuts her signature biker jackets, sweatshirts and track-pants in contrasting blocks of black, cream and silver leather. When combined and layered, these casual, luxurious pieces create a stunning statement while remaining easy to wear. Air force pilot uniforms and vintage hunting coats are reinterpreted in ultra-thin laser-cut lamb leather and key elements of them are merged with sports references. The result is a series of sumptuous bomber jackets, shorts and sweatpants with intricate pocket detailing. Most of the leather range come as his and hers versions, building a cohesive storyline between the Ainur Turisbek men's and women's wear. The women's collection also includes voluminous full drawstring skirts, tightly cropped boleros and dramatic floor length gowns in perforated leather, which effortlessly merge sportswear with luxurious refinement.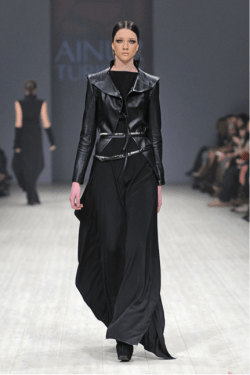 The graphic theme continues in black and white double-layered trousers, tops, shirts and jackets cut from finest semi-transparent Swiss cotton. These breezy lightweight pieces add a delicate contrast to the leather section of the collection. For men, the nomadic themes, which Turisbek has visited in her previous work, are brought back in airy loose tops and hooded kaftans that combine the shapes of traditional peasant garments with a sleeve structure and zipper-detailing from air force anti-gravity suits, a design twist very characteristic of Ainur Turisbek. Luxurious women's shirts and shirt-dresses combine crisp cotton with silk chiffon and play with different transparencies. The silhouettes can be modified by adjusting the scarf necklines and drawstring-closures. The peasant references continue in airy, rushed tops and voluminous dresses, which can either be layered on top of each other or contrasted with the more rugged leather items for a strong editorial look.
The SS16 collection also introduces a new series of nomadic-inspired silk crepe tops, dresses, robes and skirts for women. The shapes of these pieces can be altered by wrapping the ties on the neck- or waistlines and are suitable for a variety of body types and occasions. They are sensual and feminine yet casual and comfortable to wear. For Spring-Summer 2016 Ainur Turisbek also introduces a new range of unisex t-shirts, hoodies and cardigans in lightweight linen jersey. With their asymmetrical shapes, Cyrillic phrases and touching family photo album prints they are far from the staple jersey basics. The Spring-Summer 2016 collection also sees the comeback of the most iconic footwear created by Ainur Turisbek: the platform yak fur sandal, this time in pure snow white.
Ainur Turisbek is an innovative breath of fresh air. With her flawless incorporation of both rugged and feminine design elements, she creates looks both timeless and for our time.