María Eva Duarte de Perón (or Evita, as she was called by her supporters) continues to be a controversial figure in Argentina's history, loved and hated by many, even though it has been decades since her death in 1952. It is undeniable that she left her mark on our society and that she will always be considered an eternal fashion icon, amongst other things.
Evita was born in 1919 in Los Toldos, a small town in Buenos Aires province, to a humble family. In 1934 she moved to the city to become an actress. There, she worked in theatre as well as in radio, she landed a few roles in cinema over her ten years of artistic career.
Eva Duarte had a few encounters with Juan Domingo Perón, Secretary of Labour and Social Security, as she was part of the actors' union and the Argentine Radio Association (ARA). They initiated a relationship after meeting again at a festival organized to raise funds for the victims of a tragic earthquake that destroyed San Juan city in January of 1944. They fell in love, moved in together just a few months later and she was introduced to the political scene.
In a turn of events, Perón was jailed by the President, Edelmiro Farrell, in 1945. On October 17th there was a massive demonstration of the working class at Plaza de Mayo, which demanded his liberation. That day was called Loyalty Day and it meant not only Perón's freedom, but also the origin of Peronism and the end of Eva's acting career. A year later, he was elected President.
Eva become the first woman in Argentina's history to appear with her husband in public on the campaign tour. It's important to clarify that women had no political rights at that time. Socialists and feminists had fought for this cause with no recognition whatsoever. Politicians' wives used to have a restricted public life and were basically apolitical. Eva's appearances offended the conservative classes: the wealthy and the military. Nevertheless, she was beloved by the populous, which already recognized her from her artistic career. It was then when she encouraged them to call her Evita.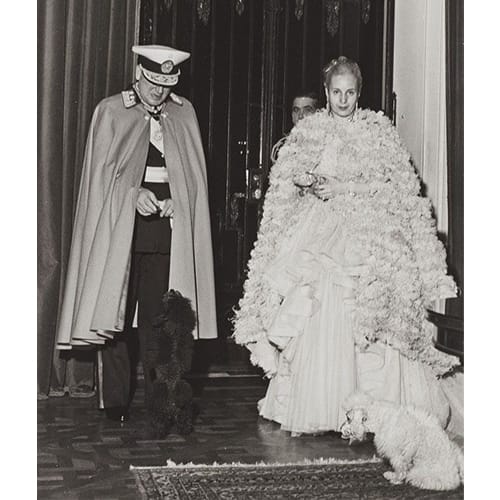 Eva was revolutionary as a First Lady. One of her first official undertakings was a tour: she visited Spain, Italy, Portugal, France, Switzerland, Monaco, Brazil and Uruguay in 1947. She declared that this journey was a lesson on how other countries developed their social welfare actions.
In spite of the fact that she never held an official post, her leadership and political activities were intense during the first six years of Peronist government. She spoke on behalf of labour rights and becoming powerful within the trade unions. The Eva Perón Foundation was created in 1948 to help women, children and the elderly as an external but supplementary organization to the state welfare policy. She personally ran all sorts of charitable activities there and received petitioners who traveled from all over the country. Apart from all this, she promoted women's suffrage (which was legalized in 1947) and founded the Female Peronist Party.
In 1951 she pondered over her candidacy for Vice President, which had great support from low-income, working class people, the unions united at the General Labour Confederation (CGT) and the Female Peronist Party. Two million people marched in support, but Evita carefully said that she would announce her decision over the radio a few days later. Juan Perón, the upper classes and the military were against this idea. Eventually, she had to decline the invitation due to internal political pressures.
On June 4th, 1952, Eva stood next to Perón at the celebration of his re-election as President. This was her last public appearance and it is said that she was so ill that a frame made of plaster and wire inside her oversized coat held her up, since she wasn't able to stand on her own. A few days later, she was given the official title of "Spiritual Leader of the Nation" by congress.
Eva Perón died on July 26th of that same year from cancer: she was only thirty-three years old. The state funeral and memorial services went on for sixteen days, with over two million people assisting in the ceremonies. By the 27th, all flower shops in Buenos Aires had run out of stock and soon after that, flowers had to be brought from bordering countries. The streets were overflowed with them.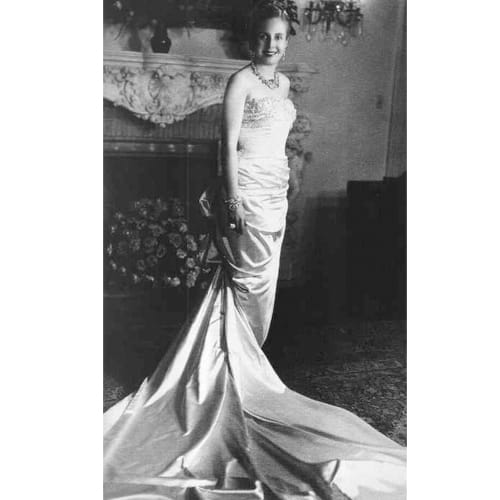 A visit to the museum
The Evita Museum is set in a large, marvelous house built in the early twentieth century that was declared a National and Historical Monument in 2007. The mansion was bought and restored by the Eva Perón Foundation in 1948, and was used as a temporary refuge for women and children who lacked resources until social services found them a home and a job. Nowadays, this place in Palermo is dedicated to the memory of Eva Perón and is the headquarters of the National Institute of Historical Investigations Eva Perón (INIHEP).
Amongst its paraphernalia are documents, publications, and photographs, as well as audio and cinematographic records. In addition to this, the museum possesses over 3,000 objects related to Eva Perón and the historical period, including clothes and accessories worn by her and lent by her family.
Carlos Tonelli Banfi, PhD. and INIHEP's General Coordinator, explains that the institute's mission is to spread and investigate Evita's life, thinking and work. He declared, "As an area of the INIHEP, the Museum attempts to revive the historical and patrimonial value of a period that marked a watershed in our history. Her figure is recognized worldwide through versions produced in other countries (such as musicals, series, films, etc.) that, to our understanding, don't reflect Evita's importance in Argentinean history. For this reason, the Museum tries to recover the woman behind the myth; the political figure that has transformed Argentinean society forever; to communicate that passion and action that allowed her to press ahead with great causes; her leadership and dedication. We try to show an Evita that is more authentic and closer to the public, to pass on her life and work's importance without taking distance from her familiar, social and political context".
The permanent exposition (which can also be seen in a virtual tour) begins with an audio-visual display of Evita's last speech and multitudinous funeral. Then, visitors have access to a chronological exhibit that gives you an idea of her childhood and adolescence in Los Toldos, followed by her move to Buenos Aires and her artistic career in theatre, radio and cinema, which led to the first encounter with Juan Perón.
Upstairs, there are thematic rooms about the October 17th story, her significant role as First Lady, the European tour, the women's first suffragette and the creation of the Female Peronist Party, and her work at the Foundation. Afterwards, there is a pleasant break at an Andalusian patio, which is a resplendently gorgeous place with blue decorative tiles. The next room shows how the building once functioned as a home for the poor. The last part of the exposition is dedicated to the "renunciation" (when she declined the candidacy for Vice President) and the moments after her death. Finally, a room called La razón de mi vida ("My life's reason", the title of one of Eva's books) reviews her legacy under the following principles, written on the walls: "Passion, Courage, Work, Dignity, Greatness, and Solidarity".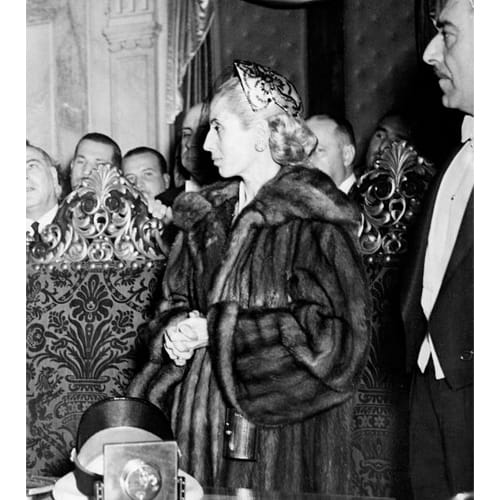 Eva's fashion
Evita's style went through an evolution that mirrored her life's turning points. This didn't happen by mere chance. She was very conscious of her image and precisely shaped it, paying attention to every single detail.
During her acting days, in the 30's, Eva emulated the Hollywood beauty and fashion icons. For instance, she dyed her hair blonde for a more glamorous look. It was during these years that she met Paco Jamandreu, a clothing designer that worked for local celebrities. The two became close friends. She sought advice from him on how to refine her style as an actress and in appearances beside Perón at charitable activities. He changed some aspects, which he thought to be tacky.
When Juan Perón was elected President, Eva adopted what is considered the typical 1940s fashion: noticeable shoulder pads, tailored jackets and tube skirts down to the knee, embellished hats, high-heeled peep-toed shoes, and a pompadour hairdo with curls by the neck.
As First Lady, Paula Naletoff, Henriette and Bernarda were the high-fashion Argentinean houses where Eva chose to have her looks created. Giulia and Rosé Descat were her favorite hat designers. She always added details such as feathers, flowers or tulle to the accessories. Regarding shoes, she came to have nearly 200 pairs. High-heeled, platform sandals and moccasins were the designs she wore the most. Perugia, the Italian label, Miguel, Mc Taylor and Maggio & Rossetto were her favorite shoe makers.
National fashion houses sent employees to accompany her all day long as fashion assistants. Paula Naletoff sent Juana Palmou and Henriette sent Asunta Fernández (who was by her side until her death and even transformed an unworn Jacques Fath Haute Couture white dress into her shroud). Luis D'Agostino was her personal tailor, in charge of creating her iconic tailleurs for every day work or public appearances. Paco Jamandreu, her friend from the acting days, was responsible for adjusting her outfits, especially when she became ill and was continuously losing weight.
Palmou said her work with Evita was "to have her clothes in order and to advise her on each outfit for every hour and occasion, but this was difficult because, even though Mrs. Perón was modest and listened to us, she did exactly whatever she wanted afterwards (…) Because of her great personality, she didn't care about what others thought about her".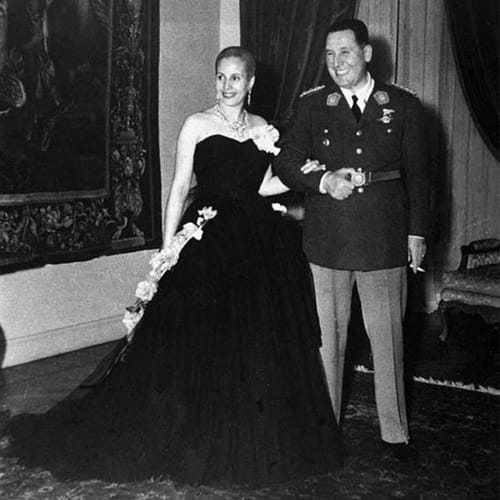 The European tour of 1947 changed her look one more time. After that journey she simplified her look to take some distance from her overdressed style. Nevertheless, she embraced Christian Dior's New Look—a wasp waist with full midi skirts. From the pompadour, a complicated hairdo, her hair was pulled back into a low braided chignon. A perfect complexion and nude make-up with red lips were also part of her new signature aspect. Deep cleavage, strapless, floral prints, draped dresses and fur coats were common choices for evening occasions; alongside sumptuous jewelry—she always wore earrings during the day.
Her style had become simpler but not ant less expensive. In fact, both Dior and Jacques Fath had mannequins in their ateliers with Eva's measures to work on her custom-made dresses. Asked in an Italian interview about his royal clients, Dior replied, "The only queen I ever dressed was Eva Perón". She also started using European perfumes like Lanvin's Scandal and Miss Dior.
After the tour, Asunta Fernández traveled two times a year to Paris to buy her dresses and tailleurs. They came back in ships or in a special compartment of Aerolíneas Argentinas' planes, where they were hung to avoid wrinkling. One evening, a Colon Theatre Gala performance was delayed because the plane had not arrived in time with her garment for the night.
Eva used fashion as an instrument of communication. She wanted to say something through her clothes. She had a humble origin and was motivated to help the poor, but dressed as an upper class woman, perhaps to show that anyone could ascend socially in those days. Even when she was at the Foundation, she wore her best clothes, explaining that she was the hostess and liked to receive her guests with the best she had. Evita used to say, "I want to look beautiful for my grasitas (Argentinean expression similar to sleazy)".
Another reason for her exquisite style was to compete with the fine wealthy ladies that despised her. That particular competition had grown fierce. As a result, the high fashion houses started to develop two collections per season: one for Evita, and another for their traditional clients. Juana Palmau stated, "Paula Naletoff didn't want to say that she dressed Perón's wife because, then, the high society ladies would be reluctant to come back to the shop".
Eva's appearance is still criticized by some people for one thing. She missed the chance to promote the national fashion industry. Even though she used national labels, she dressed as a high class lady, following the international trends without encouraging an independent or Argentinean design. Susana Saulquin, a sociologist specializing in fashion, explains that the substitution of importations and the internal migration that took place in those years, amongst other factors, would have created the perfect conditions to encourage a growth of the textile industry and to inspire a quest for a national fashion identity.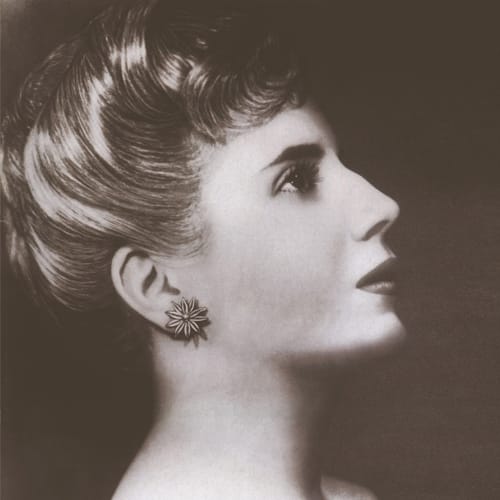 An eternal icon
María Eva Duarte de Perón is an important part of Argentinian history, whether you admire her or not. She defied the traditional vision of women as an accessory to men and showed that they could be as strong and influential as men in society. In the end, her determination and intelligence were set on demonstrating women as equals to men, and her success made her one of the most renowned female figures of Argentina.
It is almost an exercise for the local press to look for a modern Eva Perón. Every time a female politician—or any woman close to political power—gains public recognition, the game is immediately set in motion. Nevertheless, there hasn't been a woman since Eva that has had such factual and symbolic power in her relationship with the Argentinean people.
In the same way, Tonelli Banfi explains the sense behind Eva's image,"Picking up her words, she said that when she chose to be Evita, she knew she had chosen the people's path. I believe that this is the image she passed on through her entire life: a woman from the people and to the people". He concluded, "A woman of work and profound political conviction to carry out transformations that are a reality of our country until these days. Who didn't settle for a behavior merely required by protocol and believed in becoming deeply involved, even leaving her life behind. That's what she has done and what makes her an incomparable woman and, beyond any doubt, the most important one in Argentinean history".
Taking everything into account, I am inclined to believe that what turned Eva into an immortal icon was that she used clothing as a means of communication and that she gave them special meaning through her personality and actions. As a fashion icon, Evita appropriated the trends of the time and combined them repeatedly, forging her signature look. Her strength, her passion to help the less fortunate and her eternal rivalry with upper classes are all captured in her style: feminine, elegant and modern.