Photographer Claudia Smith can proudly add herself to the growing list of successful prodigies from Northern New South Wales and she is yet to turn twenty years old. Smith developed an eye for photography when she was only fourteen, using it as an outlet for self-expression and creativity. "I had always leaned towards the creative side but photography definitely felt closest to me. I used to take lots of photos of my friends using disposable cameras or point and shoot film cameras doing silly stuff, making them pose or taking photos of them when we went on adventures. The process of film has always really engaged me," she said. Over the next five years Smith did not look back, with that artistic eye quickly becoming her most valuable asset. As her unique aesthetic was recognised, Smith's career quickly snowballed, her name cemented in the creative world as a photographer to watch.
Today she calls Melbourne home and boasts clients like Yen Magazine, Lack of Color, Style Addict and Free People. And it really isn't hard to see why—her photographs are fresh and magical, something that she says is testament to the environment she grew up in.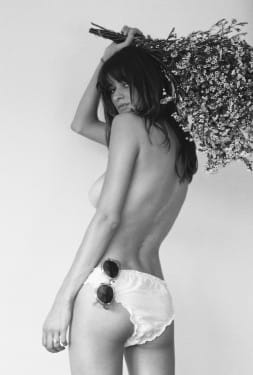 Smith cites her upbringing near Byron Bay as the inspiration for her unique aesthetic. A small coastal town not far from the Queensland border, Byron Bay exudes a raw and artistic energy that attracts celebrities and creative souls from all over the world. It is a place that all Australians should visit, to see and experience a culture long extinct in the city. "The beach and luscious mountain rages around the area of Byron Bay are a huge influence for me," Smith said. "I love to create photos with a free and raw feeling, often involving women and the environment. I feel the laid back vibe of this area is engrained in me, which is then reflected in the work that I produce. Melbourne has opened my eyes more to commercial photography, which I've started to enjoy more of, but I still [love] shooting in [natural] environments." Unsurprisingly, Smith names location as one of her biggest inspirations. She says that girls in nature or in their own homes are her favourite subjects to shoot, proving just how powerful and influential environment and atmosphere are to her work.
Not long after Smith began documenting her work online and building her portfolio, she started to be contacted about collaborations. The feeling that she had when she received her first job inquiry e-mail, she said, was one of the best feelings she has ever had. Flash-forward to today and the e-mails are still pouring in, with some of Australia's biggest brands reaching out to her and IMG Model Management's hottest young faces vying for a spot in front of her lens. When that first e-mail landed in her inbox, Smith was only sixteen. "A Byron Bay vintage label, Alida Buffalo was one of my first jobs and is still my favourite label to work with today. It's always a fun time. Working with fashion brands really is an amazing experience, I love the teamwork involved in creating a final product. I love working with brands that share the same values and aesthetics I have."
As with any job, the people that you work with can make or break you and your working environment— they ultimately determine your happiness at work. Work with good people, and you are on the road to contentment and success. The same applies to photographers who spend days on end meeting and working with new people. This level of interaction, that some people try to avoid, is exactly what Smith sees as the best part of her job. She loves working with such a diverse array of "rad" people. Photographer Smith finds that working with the same models time and time again helps her produce her best work, naming these girls as her muses. It is easy to see this connection when you flick through her website and see the girls that she has shot more than once. A relationship and sense of mutual understanding is poignantly visible in the photographs. Smith highlights their natural beauty and in return they offer her the satisfaction of capturing them at their finest— raw and truly happy to be in that moment with her.
In ten years' time, she hopes that travel will be a staple in her lifestyle and that she will still be making incredible memories. She believes that photography will take her on this path. There is no doubt that photography has changed Claudia Smith's life, and that Claudia Smith has changed photography. The work she produces is awe-inspiring; a true contrast to the commercially focused, high-gloss images saturating the modern market. We can't wait to see what this photographer does next.