Laduma Ngoxokolo takes African print, traditional Xhosa geometrics and the African Fashion industry to the next level.
Port Elizabeth born fashion designer Laduma Ngoxokolo established his unique brand Maxhosa by Laduma in 2011 and has since unveiled four very successful menswear collections, two womenswear collections and established himself as a giant in both the sock and home décor industries. His creations are a rare fusion of old traditional isiXhosa prints, colors and patterns perfectly designed in a manner that can only be described as art.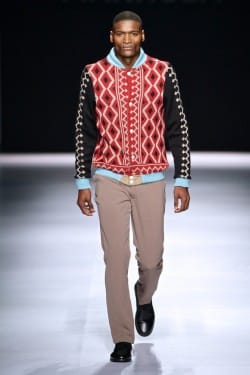 The birth story of MaXhosa is just as interesting and compelling as the brand itself. For boys to become men in the isiXhosa culture, they need to go through an initiation process. Once complete, the young adults are now known as 'amakrwala' and are easily recognized by their dress code. Ngoxokolo's initiation process sparked a need inside the young designer that resulted in the conceptualization of MaXhosa. The MaXhosa brand looks to celebrate and honour the isiXhosa culture and its people. Further emphasizing Ngoxokolo's spectacular commitment to modernizing isiXhosa wear, is his ability to so accurately portray such an intricate people using only knit fabrics.
Ngoxokolo emphasizes the importance of locally sourcing and manufacturing materials and products, such as mohair and merino wool. Although a difficult feat, Laduma prides himself on contributing to the economic development of South Africa's job market.
When discussing his first collection, Makrwalas, Laduma stated, "On my journey exploring astonishing traditional Xhosa beadwork crafts, patterns, symbolism and colours, I found my inspiration. So, I incorporated them into modern knitwear items". The collection features bold colours, symmetric shapes and patterns commonly associated with African prints. The commercial success of the first collection resulted in Ngoxokolo being invited to showcase his second collection, My Heritage My Inheritance, at the Labo Ethnik Fashion Week in Paris.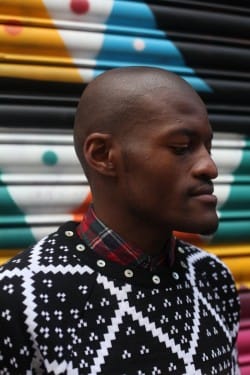 Ngoxokolo's mother, Lindelwa Ngxokolo, who was a knitwear designer in the 1980s, had dreamt of going to Paris "to see high-end fashion". Naturally, Laduma dedicated the My Heritage My Inheritance collection to Lindelwa. The collection featured what many have now come to know as Ngoxokolo's signature: geometric prints on the backdrop of a bold color palette. The garments remained simple whilst the patterns themselves grew more intricate. By the end of 2013, MaXhosa successfully nabbed the attention of a European audience. The brand is now stocked in both France and the Netherlands.
Unable to satisfy his hunger to popularize and salute his heritage, Ngoxokolo showcased both a Men and Women's collection at his first appearance on the Mercedez-Benz Fashion Week catwalk. The designer received a standing ovation and was even approached by some of South Africa's royalty who wanted to share their congratulations and appreciation of his work. Ngoxokolo's collections were also recognized by Vogue Italia who awarded the designer with the 2015 Vogue Italia Scouting for Africa prize to showcase his Maxhosa collections in Milan at the Palazzo Morando Show.
Laduma Ngxokolo, a gentle young man who grew up in rural South Africa has, against all odds, achieved international success and recognition for his locally inspired garments. Although making waves on a global scale, Ngoxokolo insists that the heart and soul of his brand will remain deeply rooted in the plains of Southern Africa. His cool demeanor and gentle nature may cause others to think otherwise, but for those in the know, Laduma is as ambitious and tenacious as the mighty lion.