It's no coincidence that you have to walk past the botanical garden of Buenos Aires to get to Tupã. One of the city's lungs is just a few blocks away from a concept store that intends to merge nature, fashion, art and architecture into a reflection of Argentinean and Latin American identity. The front is enigmatic: just a sign and a long corridor. An austere but green garden and an old house transformed into a contemporary space are the next stops. As you enter, a sense of serenity welcomes you into another universe, far from the concrete jungle and its noise.
Tupã was created in 2012 by Agustín Yarde Buller and Martin Boerr, who curate the collection displayed in the shop. They introduce a selection of garments and objects made by different artists, which represent a lifestyle connected to the local identity, originality and modern times. Artisanal work, low environmental impact and experimentation are the concepts that guide their selections. To wear or use any of their offerings is to make a statement, loud and clear.
In this choral space you can also find pieces from Boerr · Yarde Buller, Agustín and Martin's clothing line. Severe silhouettes with clean forms, a minimalistic touch mixed with textures and a blurred line between genres result in garments that seem to defy time and, above all, the acceleration of fashion trends. Clearly, its users escape consumerism in all forms. We had a fascinating talk with the creative duo to find out more about their work as curators as well as designers of their label.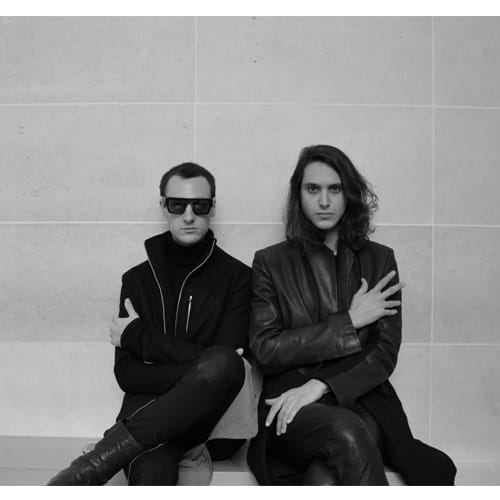 How was Tupã born?
M.B.: Tupã was born after finishing our college degrees. I had started studying cinema, and then I studied clothing design. He (Agustín) first did architecture and continued with clothing design. Once we had completed them, we travelled together around the world to understand what was really happening and to figure out what we wanted to do: if we wished to work abroad or in Argentina, for a brand or in our own business venture.
Finally, we concluded that Buenos Aires was lacking a space that would combine several disciplines, which would generate a national identity taking into consideration regional identities, and that could reflect all of this to the world. So, we decided to create Tupã, which includes our own clothing brand, Boerr-Yarde Buller, and others, as well as creations from other disciplines such as ceramics, photography and accessories.
Tupã is the name of the supreme God of Guaraníes, a native community from the region. Why did you choose it for your project?
M.B.: After travelling so much, we were just talking about the importance of language and how it rules over each culture's idiosyncrasies. In the same way, we wanted to choose a word that represented the region and that had the local mark. We started to investigate and this deity appeared. Tupã is the God of creation and of yerba mate. So, it seemed interesting and made sense.
What do you have in mind when selecting pieces or collaborators for Tupã?
A.Y.B.: Firstly, the product must be created in Argentina. This is one of the most important guidelines for the moment because, as Martín has commented, our idea is to generate a contemporary vision of what you can find in the country nowadays. That is our starting point, and then we immerse ourselves in the materials, the techniques, and the originality of the product. We are also interested in finding products that can coexist with those we already have in our store.
Sometimes we find an artist that has a certain product that is developed on a smaller scale, exclusively for Tupã. And that's when they have the opportunity to search for other materials or techniques and to explore a conceptual side of what they usually do, away from the commercial angle.
We maintain a fluent communication with our collaborators that goes both ways. We like to give them feedback about what did or didn't work, what can be changed to improve or what is already perfect. And at the same time, we generate photographic material for promotion. As a result, a relationship or synergy is produced between the collaborators and us, and that enriches the whole curatorial process.
What are you trying to communicate through Tupã?
M.B.: We want to communicate a certain lifestyle, a way to see and understand the world. That covers several disciplines and accompanies you throughout the entire day, from the moment you wake up with indoor clothing, then get up and use pottery pieces to eat breakfast, such as bowls. This includes how you eat, drink and dress, whether you're staying at home or going out. That is the practical side of Tupã. From a conceptual perspective, we are trying to outline coordinates and to locate Latin America geographically back in the game and on the international board.    
How do you introduce a synthesis of art, architecture, fashion and nature?
A.Y.B.: The connection with nature was meant from the beginning, because of both of our liking for it. We try to keep in touch with nature as much as we can. And this was transferred to our working process.
Furthermore, I believe that a lifestyle where all the different disciplines coexist is actually what is suggested by Tupã. Where you may find them separated elsewhere, here they make sense with each other. The reason lies in the curatorial process and what we talked about earlier; you can buy a blanket for your sofa, a scarf to go out, have breakfast in a pottery piece, get dressed in our designs, etc. And finally, this also has to do with the experience we offer our customers at the store, which is not only about 'shopping for clothes'.
Who are Tupã's artists or collaborators these days?
M.B.: We have our clothing line, Boerr · Yarde Buller, Shang-Viton garments, Maydi, the designer who makes hand-knitted pieces, María Duffy, the ceramist, Lucio Boschi, the photographer, Bastardo accessories, and two jewelry lines, Oss and Dutari.
A.Y.B.: They are the ones that we are working with right now. Obviously, these can vary for different seasons.
What is your creative process like at Boerr · Yarde Buller?
A.Y.B.: It's different for each season, so there isn't a fixed formula. Sometimes it begins with us working together. Other times, we're working apart and we share our ideas and that's how everything starts to articulate slowly.
Nevertheless, there is always a common ground in our first search for inspiration. We make a sociological and cultural study of our reality and the world's reality (regarding politics, economics, social issues, human rights, etc.). We consider the way it affects how people feels and how they want to dress themselves. Then, we think about how to translate that into the clothes' details and textiles. From the very beginning, since our college days, we had the conviction of taking politics into account and give our customers the opportunity to make a political statement with our clothes and their ideas. So, this is a very important starting point.
M.B.: This goes for our inspiration as well as our production chain. We intend to make it as just, fair and egalitarian as possible. We make sure that our materials don't harm the environment (or that they make the least possible impact). That's our core.
A.Y.B.: Regarding our color palette, sometimes it just occurs. For a collection called Lava, we saw a picture of a landscape from Antofagasta, in Catamarca province, and we noticed it was a spectacular place with such beautiful colors. We developed our collection around it and finally shot the campaign in that exact place.
For other seasons we may be inspired by a sculptor or an artist, making links between their work and our region. We're making a nexus of these different ideas and putting our collection together as we go forward. We're constantly changing things until the last moment of launch when we agree 'It's ready, it's done'.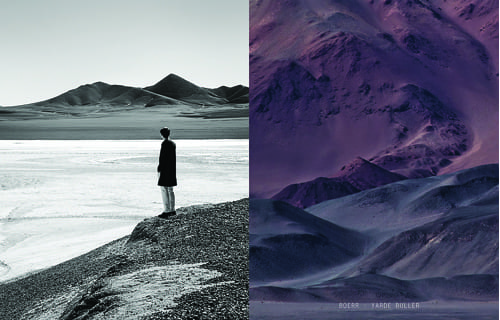 How do you develop your materials so as not to harm the environment?
A.Y.B.: That's the harder part. When we were planning our first collections it wasn't something necessarily explored or exploited. Now, having gained more experience, we continue to add pieces to the collections that meet this particular requirement, little by little.
In fact, a great part of the textiles developed for our present collection (approximately 80%) were produced by cooperatives in Corrientes province. They were made of organic cotton, dyed in an artisanal way and the water was reused as many times as possible. The process of dyeing was planned to be efficient and less contaminating, and the dye was from Japan and had a low environmental impact.
Our knit line is handmade, also using organic cotton. For last year's winter collection, we collaborated with a native tribe from the north of Argentina. Together, we developed a line of weaves made on looms. The tribe was organized in a cooperative that gathered people who live in the mountains breeding their own llamas, guanacos and other camelids. They sheared the animals themselves and took good care of them. Then, the fleece went to the artisan that spun it and to another one that knitted it into a garment.
However, this process always changes based on what we need for the next collection. We think about a certain textile, find a way to achieve it in a responsible way and we supervise the chain of production to assure this.
Boerr · Yarde Buller and Tupã work with native communities from South America, non-governmental cooperatives and local artisans. How is the nature of this exchange?
M.B.: In the beginning we went out to find these organizations and sometimes we found them by chance. Then, as we became more popular in certain design circles and got more press, they started approaching us. These were artisans that developed a particular technique or material, or that were interest in taking part in our project. Then, we considered what we could create together.
Working with artisans is a two-way street. Even though we have a clear idea of what we want, we keep the door open to their feedback. After all, they have the know-how and the knowledge to do it best. So, we're open-minded about their intervention and comments during the process.
A.Y.B.: There's always a first idea that ends up in several transformations.
M.B.: I believe that this is exactly what leads to a contemporary product: being able to combine the ancient knowledge with a modern vision to create something truly innovative.
The recovery of ancient techniques and a sense of identity are put together for the local handcrafting of a luxury product. This could be seen as a correspondence between your work and Haute Couture from Paris. Did you mean to walk that similar path or was it unplanned?
A.Y.B.: We first acknowledge that all of the concepts we're talking about are extremely bastardized, especially by the town people in Argentina. I think that when people visit the north or south of the country, they look down with pity at those that live on the mountainside with their animals. We're trying to change this view and that's why we decided to work with them to turn it up a notch and be able to say that ours is an artisanal product that takes a lot of time and effort to put together.
M.B.: I think that this is a chain of production much more severe and earthly than Haute Couture. You may find a correspondence because of the amount of time that it takes to produce the level of detail and the noble materials. We sometimes say that it is 'couture for peasants'.
Nonetheless, at the end of the day, Haute Couture has a leitmotiv that implies a different sense of luxury from ours, which is typical of our territory. The idea of a person that bred an animal, sheared it, spun the fleece, dyed the thread and knitted it into a piece of clothing, working alongside a designer who create the clothes goes beyond couture. Or at least, this is our conception of real luxury nowadays. It's no longer associated with exhibitionist or ostentatious values, but with something more austere or intimate.
What is Boerr · Yarde Buller's next collection about?
A.Y.B.: In my opinion, the next collection is going to be the most political one yet. It's called Caracas. I found a picture, which I don't have much information about yet, but it was revealing. It shows a group of six men on top of a Venezuelan mountain with spectacular looks in 1906. It looked as if there had been a stylist indicating 'You should wear this belt', or 'You should pose like this'. It's unbelievable. On the other hand, Martin found an image of the Adelitas (women that took part of the Mexican Revolution as soldiers, cooks, nurses or assistants).
And then, we added the view of what's happening to the world today: the power and potential of Latin America, the consequences of present geopolitics, and how the world seems to be shaken by things that occur here in Argentina, in Venezuela, in the United States, the Middle East or in any other place.
We took all of those ideas and translated them into clothes' details such as bonds or tourniquets on sleeves, and patches with some words on them. This gives the notion of "I've been hurt but I have to keep going". Apart from this, we were inspired by some personalities that connect to these concepts, like artist Georgia O'Keeffe and her pictures, looks and lifestyle.
M.B.: Actually, she had a house in Mexico, and it was a remarkable ranch that combined a modern vision, the Mexican culture and the colours she used to paint. So, we took this mix of cultures under a contemporary insight as a reference.
A.Y.B.: There are also some pictures of Frida Kahlo going around. Not the ones that you are used to seeing, of her dressed in colorful attire, but with a certain attitude or way of looking, more intimate.
We're back to finding inspiration in our region. For our last two collections we considered a clash between the Andes and a European sculptor, or a Brazilian architect. Now, we once again enclosed ourselves in our region.  
What does 2016 hold in store for Tupã?
M.B.: We would like to generate a community. We believe that our next move is cooperations and generating ties between people to tackle several issues and problems in order to find efficient solutions. This is the project we have in mind for 2016, and that's all. However, that's no mean feat.