We met Adriana Marina on a cold winter morning in Buenos Aires. Maybe she is accustomed to freezing weather, since she was born in Santa Cruz, a province located in Argentinean Patagonia. She also lived in Salta, in the hot north of the country. These aspects of her life let her be in touch with nature as well as native cultures. In addition to this, she has a PhD in Economics and a broad experience in both the academic and business fields. All these facts may seem random, but when you put them together you certainly understand why she devotes herself to her projects on sustainable and ethical fashion.
Marina is the founder and president of Hecho por nosotros (Made by us), a NGO that serves as a nexus between the market and local inhabitants who have low economic resources in urban and rural settlements. Their intention is to preserve their regional and cultural identity, promoting their arts as a form of expression and a tool to propel their social and economic evolution. Hecho por nosotros gives the artisans training, management, design, commercialization and marketing notions to transform them into a critical mass with the ability to become self-sustainable. It has a craft centre and workshop spaces where designers and artisans exchange views and experiences.
Moreover, the NGO participates in several seminars and conferences all over the world. Hecho por nosotros also has an observatory, which functions as a research and education centre to analyze the issue with an interdisciplinary approach. This, as well as several other actions organized by the NGO, aims to study and improve local and regional development, to observe the consumer's behaviour and governments' politics to have a clear view of the context as a whole.
Apart from that, the Foro de Moda Ética Latinoamérica (Ethical Fashion Forum Latin America) is a platform created by the NGO. It is open to all sustainable fashion projects and its main goal is to promote ethical fashion, innovation and sustainability. The forum is meant to consolidate a Latin American network of companies, foundations, universities, government agencies and professionals interested in this matter. In other words, to call all parties who may want to get involved to advocate for clean fashion.
Their actions are always driven by particular issues related to sustainability. Ethical fashion, the use of organic materials and recycling techniques, the ecologic manipulation of resources, the attention to the quality of life of artisans and communities, the recovery of ancient cultures, fair trade, sustainable development and certifications are the principles that these organizations are after.
There's always an open call for young students or professionals to become part of the forum and Animaná from all around the globe. There have been almost 100 youngsters from several countries who have taken an active role in the construction of these institutions and experienced a close collaboration with artisan communities, exchanging knowledge and skills. Most of them were students who were conducting research, writing their thesis, or simply doing internships. Also, a great number of local young men and women collaborate in Marina's projects.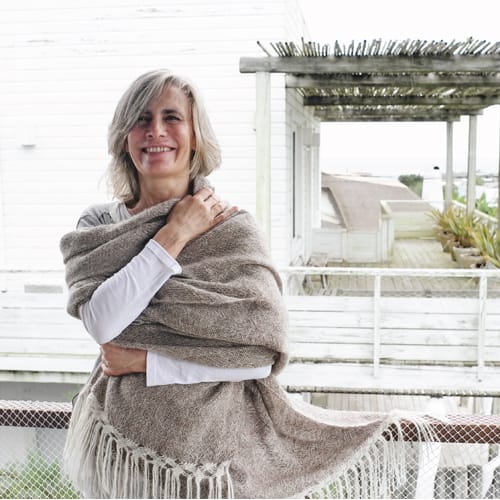 Setting an example
Adriana Marina practices what she preaches. She's the creator of Animaná, a social and sustainable company who produces decoration, accessories and clothing lines. It has a holistic vision that includes the recovery of ancient cultures and artistic techniques from Patagonia and the Andes. Its core resides in the added value given to natural fibres by elaborating artisanal products. Its production system implies collaboration with local aboriginal communities based on fair trade principles. Animaná uses technology, design and knowledge to create a sustainable model of production, consumption and commercialization that respects the environment, cultures and people by bringing together tradition and modernity.
The brand works with high quality materials: natural fibres from camelids and sheep (llamas, alpacas, vicuñas, guanacos and merino sheep). Their supply chain begins with the sustainable breeding of these animals, which live freely in their natural habitats being taken care of by shepherds. Then, the animals are sheared and the best fibres are selected by hand. The resultant material is classified by colour, length and thickness. After that, the fibres are cleaned in pools containing hot water and using special soaps made from natural elements from the Andes.
A great part of the fibres are used with their natural colours from the animals. These go from black to white, including a combination of grey and brown, characteristic of Animaná. This practice is encouraged to keep alive the original palette of animals. When there's a need for a different colour, the raw material is dyed with pigments from native plants. This process of natural dyeing is an old art that had been long lost due to the use of aniline. Flowers, leaves, seeds, fruits and tannins are the source of the colours. Fibres are dyed in large trays with hot water and the pigments extracted from the previous mentioned elements. Then, they are left to dry in the sun and after that, the coloured material is rinsed out and dried again, to eliminate imperfections.
Once dry, the artisans spin the fibres using manual techniques and their expertise, which date back to the pre-Hispanic period. This way, they produce three types of threads: a thin one, used for ponchos; a thick one, for tapestries and rugs; and one called "mismido", that is stretched and barely twisted, and is used for small blankets and for under horse seats.
Afterwards, the artisans use vertical looms to weave the fabric. Each thread is situated by hand to create a pattern. One by one, knots are made with each thread to secure it. Then, the weaving process begins. Possible flaws are controlled and corrected by hand until the fabric is perfect and ready to be sold. The termination of the object is also handmade. As a result, the products are soft, delicate and comfortable. The articles' design is simple, thought to be ageless and timeless; and the high quality of its materials makes them lasting. Everything is planned around the company's philosophy.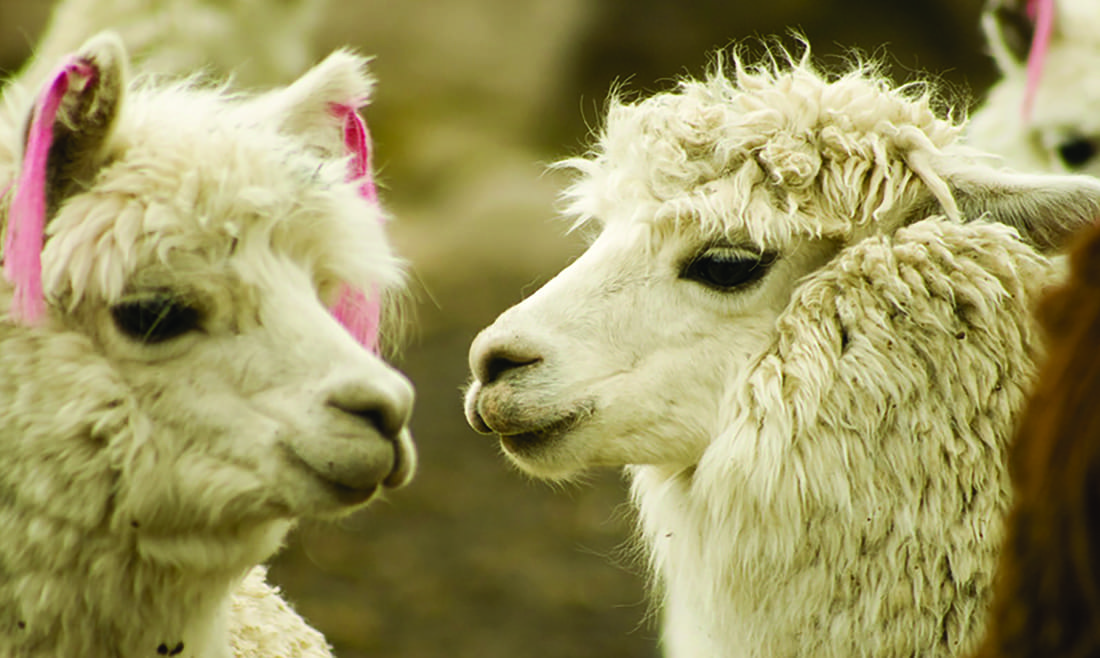 Painting a picture of the present
What is the origin of your undertakings?
All of this came up out of a calling to contribute to a sustainable world, which I feel in my gut is the only possible world. I was born in Patagonia and was raised surrounded by nature and sheep. And that's where you can hear the truth and wisdom of the Earth. Then, as an economist I worked a lot investigating issues such as poverty and inequality. After that, I learned about new technologies, changes in economic habits and knowledge networking including universities. All of this gave me some sort of initial exercise to develop this project.
Regarding working with artisans, I lived in Patagonia and in the North of Argentina and travelled a lot through Peru and the Andes. So, I have always felt a vocation in realizing that they have a treasure that is a world heritage in spite of the fact that they are living in poverty and their culture is being battered in several countries and levels. I really find that there's a treasure there for themselves, for regional economies and the planet.
So, after having worked for the International Bank for Reconstruction and Development (IBRD) and several institutions, I decided to take on a project that would integrate all social areas: design, fashion and decoration. It's a sphere that gathers us all and at the same time, these are the most slave-driving and contaminating industries of the world. We all are part of this. As consumers, we are as much protagonists as great-sized companies. I believe that the responsibility is shared.
Why did you choose fashion and decoration as working fields?
This is an extremely interesting platform to work in. Fashion expresses our identity, what we are thinking about. Not to mention the fact that the artisans are the base of this industry. Garments were born with the need of ancient civilizations to dress, so they used their own raw materials and arts not only to make clothes but also show their way of living, their connection with the environment and the afterlife, their macro-cosmic vision.
I believe we have found the strongest field to send out a message and create a feasible model or prototype for sustainability in fashion, which is almost a slap in the face. I mean, many people say that sustainable fashion is an impossible concept. In my opinion, it is impossible to live in a world where is not even reasonable to talk about sustainable and ethical fashion.
So, we embarked on this task. All is connected because it is actually a joint work that goes in both ways. Our institutions have taken shape and places naturally. For instance, let's take into consideration the work that is done with artisans through our enterprise, Animaná. The product received, which can be a garment or a blanket, is the result of an enormous process in education, cooperation, management, design consultancy and quality control. The company gets the product, which was standardized, but on this background we see the real change in the lives of these communities.
We have all this work and learning process that we spread. Our NGO, Hecho por nosotros, leads several projects, from our Crafts Centre of Arts and Trades, our management assistance, to the Ethical Fashion Forum Latin America. Besides, Animaná's work takes place in Argentina, Chile, Peru, Bolivia, Mexico, etc. In consequence, we were able to easily create a network centered in ethical and sustainable fashion throughout Latin America. However, the Forum is an institution which is dedicated exclusively to networking, education, knowledge transmission in collaboration with small-sized sustainable companies from the region.
"This is the key point: do you want to know what's behind the label or you just don't care?"

Adriana Marina
What are the goals of these organizations?
The main goal is to contribute to sustainability in fashion industry. We are focused on how to raise awareness amongst young people, through school and university courses; and amongst consumers because, as was previously stated, fashion gathers us all. The main problem is that there is no consciousness. If people would stop to think that their clothes' elaboration is based on slavery, human trafficking, exploitation of children and pollution of the environment; they would have a different level and approach on consumerism.
Moreover, the truth is that this is not even reflected on clothes' price. We pay a lot of money for it, and the production platform or system is highly exploited. In their eagerness to run a profitable business and to meet the demands of a massive and excessive consumerism, these industries have totally neglected the environment. It is a sector that has a deep crisis. Furthermore, this level of consumption leads to the wrong use of water in industrial washing and to the excess of rubbish, of clothes that we discard.
Sustainability is a complex issue and has a great potential. Our experience shows that when we talk to young and adult people, their reaction is intense. Nowadays there's more information about it, but when we started they have never thought or heard about what was really going on. And you can see how difficult it is to press ahead with a sustainable company, to communicate, to reach the market, to impulse people to abandon the "propaganda model" in which we are asleep and contributing to brands and enterprises while believing in the fantasy that we are going to be happier or better because we buy their products. And in reality, we are causing a great damage.
So, we created Animaná and we show people that we have a brand with high quality products, that are expensive because they are made with the noblest materials, such as natural fibres, in order to make them stand the test of time. Plus, they contain the local work with artisans, the network created for it, the quality control, transport, presentation and communication. It is an immense labour. We have recently opened a shop in Paris, and been to several trade fairs where buyers are impressed with our label. Nevertheless, it is really hard to reach a critical mass of consumers. It is a hard road and, meanwhile, big companies produce everything in China, with lower costs and mixing and creating artificial fibres that may be soft but are far from being natural.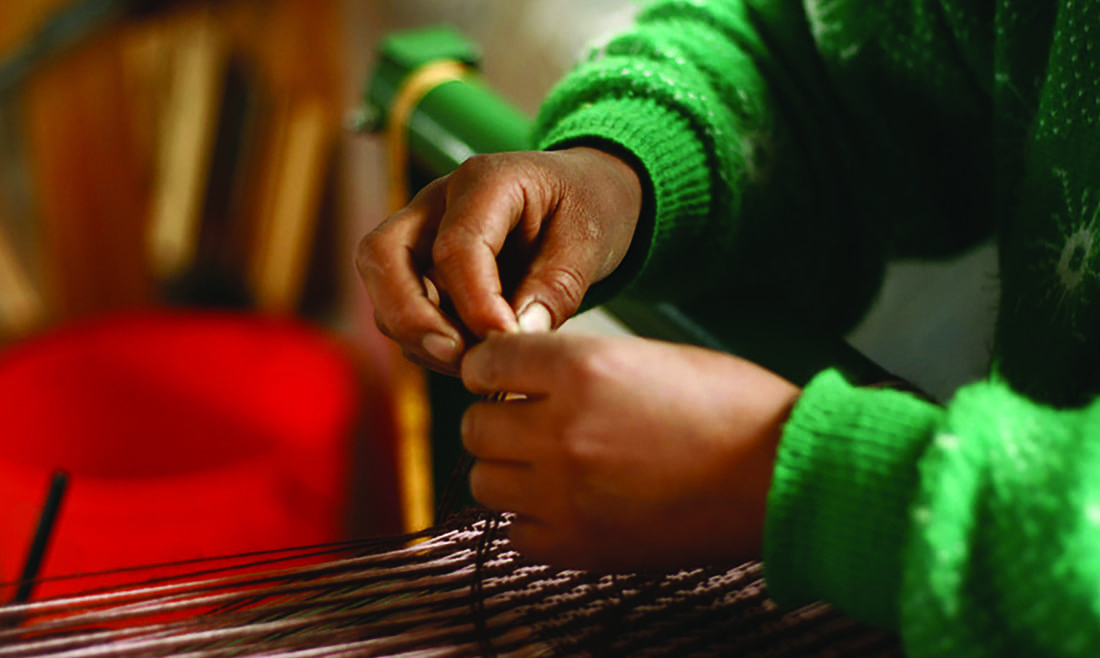 How do you raise awareness when consumers and business owners are looking for lower prices and costs, respectively?
I am inclined to believe that there are several ways to do this. On one hand, the distribution in the composition of the price of a pair of jeans or a t-shirt, for example, is wrongfully done. The platform of elaboration, the workshops, should get enough money for their members to have a decent life: to be able to have good health, hygiene and security conditions, as well as respect a certain amount of working hours, amongst other conditions. The person that designs and the one that sews the garment have a small sum of payment in the distribution of the price. Then, a great part of it is directed towards marketing, publicity, image and profits for these companies that already are extremely profitable. I mean, Zara's owner is one of the richest men in the world.
This is the key point: do you want to know what's behind the label or you just don't care? There are workshops with enslaved workforce all over the world and most of them also use girls for sexual exploitation during weekends. Apart from that, fashion is an industry with accelerated times, so this requires many changes in its designs from one day to the next, and to have a large structure to face production at this pace.
Why is Animaná considered a social company, with an alternative production, consumption and commercialization model?
To begin with, working with artisans and women from a humble position in society, and located far from cities, already causes us to have an alternative model. We got to them through years of working in this, and through my personal experience. I have lived in different places of the country and looked for collaborations with these groups of people, to form working teams, to give them ideas on how to improve their products, their management and their organization. We work a lot with handcrafting, with their arts, their techniques and abilities, also with their idiosyncrasies and their working hours and their difficulties. Therefore, it's completely alternative to the industrial or commercial model as you know it.
Animaná is a social company because it is genuinely focused on the appreciation of people, communities and its richness. They are the world's heritage. If you go to Tilcara or other similar places, the local tourist shops are selling Chinese products. It's terrible seeing that the community has these treasures and people that visit those places want to have contact with local culture but they leave with a foreign-made souvenir.
Besides, Animaná is a certified B Corporation since 2013, being one of the firsts of fashion business. All of this is done with the objective to demonstrate transparency and veracity in what we communicate that we do. This is an extreme posture. I wanted to propose it, analyzed if it was feasible to do it, and then if it was possible to make it more radical. And well, we're trying!
What is Animaná's production model?
We work with small and medium-sized companies, with people that carry out workshops or that organise groups of workers (and some were created by us from scratch). In the Andes, the native culture is sexist and women have few possibilities for working. It's hard for them, because they are the centre of the family, of their children, so they can't spend a lot of time away from their homes or their duties. Nevertheless, if these women increase their incomes, they dedicate the whole sum to education, health, to improve the life quality of their children. Ultimately, they form "circles of solidarity" to work. For instance, you form a group of working women and they are all co-responsible for the delivery of their products. That's how you manage to stabilize the product. You also see some social phenomenon. People from small villages usually are kind of self-absorbed but they socialize and gather strength through the exchange that happens while working in groups.
"Ours is a holistic model, sustainable from the birth to the end of the product, and is absolutely amicable with culture, society and the environment".

Adriana Marina
What was it like in the beginning?
At one point of my life I moved from Salta to Spain, where my ex-husband and I set up stands at shopping centres to offer the work of several cooperatives. I improved the business and product design with the help from some friends, and we had an enormous learning process regarding creating working teams and its impact. We saw a real progress because it was a fruitful time for the market, both in Europe and Latin America. All the groups we created bloomed, and this gave me the strength I needed to create Animaná. We were protagonist of a forward leap regarding the quality of the artisan's design, products and workshop organisation.
When I had moved to Salta, the handcraft was poor, very basic. Obviously, there's always a line of luxury artisans but the small workshops that targeted tourists offered small things that you would never use. And they had rich raw materials and workforce, so we took a turn at it. We change the design and took it to another level in termination and presentation, transforming the model into a much more cosmopolitan craftwork. Now, these few last years have been unfavorable, both globally and locally. The tourism doesn't bring money.  
Do you have collaborators?
Luckily, we have received a great amount of collaboration. For instance, I met a woman that's into fashion business in Paris, Dominique Peclers. She's the founder of one of the first agencies dedicated to study fashion trends of the world, which is called Peclers Paris. Dominique got really excited by our project; we invited her to visit the Andes' communities and she was truly amazed by our potential. So, she has been involved in Animaná for a few years now.
Owing to the fact that I'm not a designer, she helped me to create our own concept and to embody it. Also, she assists with our collections, in its conceptualisation. We are not a fashion label and don't want to be one. So, it's a thin line because we need to offer something attractive, contemporary and appealing to all ages. It's really interesting when you see that Peclers' granddaughter chose to use the same shawl as her grandmother: a woman in her eighties and another in her eighteens. This is possible because our products are timeless and thought for all ages.
Another beautiful phenomenon that takes place in our Parisian boutique is that you can see children's reaction to natural fibres. You have no idea how thrilled they are and they want to touch everything! These experiences made us think about setting up some activity in near future for them to be able to play and do something with felt, maybe. It's simply wonderful. It shows you the need to feel something real in this world. When we opened the boutique and saw the children, I couldn't believe it. We have a wall covered with a blanket that is sort of a poncho and it's woven with thick wool that we call nubecita (little cloud) from a combination of sheep, llama and guanaco. They reach that place, freeze and simply are astonished. It's striking.
What are Hecho por nosotros' actions?
Our NGO has been working all these years with several groups, promoting a bridge between cultures and societies. For example, we work in Salta with the Wichis, between those who live in their original aborigine communities and the Wichi children who live in the city. We have coordinated lots of activities with help from lots of people. A literature professor worked for six months recovering old Wichi legends and teaching them to kids that had lost completely the sense of their cultural roots and that even felt some kind of shame for who they are, living in the city. Then, some artisans wove with them using chaguar, a textile fibre from plant which is one of their icons. They created some accessories and handbags. A painting workshop was also organized, to manifest what they had perceived from the legends. It was a three days long workshop that was planned and done for a few years.
On another occasion, a French designer spent more than a year living in the communities to comprehend their abilities and introduce design notions. We also offer management courses; we teach them how to set up a webpage. Also, the Forum organized a Latin American competition in 2011 and we displayed six company's work in a stand at the Ethical Fashion Show in Paris.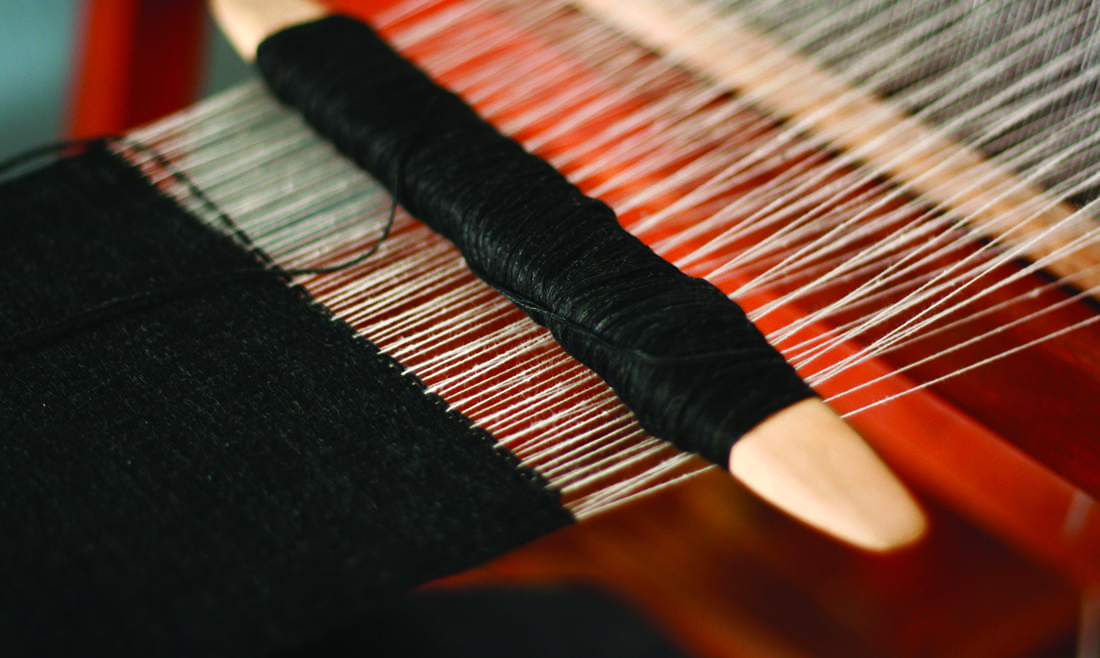 How do you manage to carry out all this activities throughout the years?
It has been huge for us and there's a great deal of energy put in this project to move things around. And it is arduous because we still don't have genuine funding. However, this year we have been granted the Consultative Status from the United Nations. This makes us part of the international debate and our idea is to work hard from now on in Latin America, with all members from the network to elaborate proposals regarding how to encourage a sustainable, ethical, ecological industry and workforce. Besides, we are associates to the Ethical Fashion Forum, Green Showroom and Ethical Fashion Initiative (EFI), an organisation established by the European Union. So, we work together principally giving Webinar courses.
It is mainly good will. Animaná requires a great deal or resources, energy and effort. And it is really important to demonstrate if this project is feasible or not. There are a lot of people that talk; we're actually doing something about it. There's always a vocation and a will to have a wide gaze to gather all the people that want to take action. So, the Forum is an open space for everyone. We invite them to take part, to create and give shape to their own projects.
How is the Forum composed?
It is made up of the Hecho por nosotros members and a great number of professionals: designers, journalists, professors, investigators, etc. from all over the continent. Moreover, we are calling new members all the time. Right now, we are convening young students or recent graduates from sociology and economics, in order to carry out more formal studies and works to present before the UN.
Apart from this, we are frequently contacted by designers from small undertakings to help them out. For example, there was a young woman who wanted to do knickers with organic cotton and paint them by hand; another one had a handcrafted line of products for mothers; and other had shirts elaborated with recycled materials. We get together, analyse the projects, their disadvantages or problems and we promote their work via the Forum. It is an intangible and permanent network.
Our next step is to give the educational space, both in-person and online, a permanent staff of teachers, that would be paid wages and would be able to give courses continuously. Nowadays, we are the same people doing everything but we are planning an institution with separate areas, as it should be. And we are thinking how to articulate the UN Consultative Status to gain genuine funding. At the same time, we have a great number of associates in Colombia, Peru, Bolivia, Chile, Brasil, etc., so they would also share the same status and they all will be able to empower their own undertakings.
"Animaná is a certified B Corporation since 2013, being one of the firsts of fashion business".

Adriana Marina
How would you define the current outlook of sustainable and ethical fashion in Latin America?
I believe there is a great possibility, an enormous potential. However, we have a lot of experience within the market and have represented the Forum before many institutions, having meetings with great companies like Topshop in London and other important centres. And we have seen that it is difficult for them to rely on artisan products from Latin America when it comes to deadlines and quality. That is why we were resolved to create a network composed of sustainable and trained suppliers so that they could join the market in a reliable and effective way.
Then, there's a whole potential within natural fibres, but it requires a large amount of inversion. Latin America (with the sole exception of Peru and its local production) exports natural fibres, which are extremely valuable, as virgin, filthy wool with no added value whatsoever. This is actually what drove me to do all of this. When I was a child in Patagonia, I saw the sheep being sheared and I asked my grandmother why did we sell the wool like that and didn't make sweaters. The same thing happens today: we keep selling dirty wool because we don't even have washing sites, spinning mills and knitting companies in Patagonia.
In conclusion, there's great potential but it has to be seen by the governments and regional economics that would give it an enormous boost. It also requires for all the different actors to join forces together. That's why our Forum project is called that way: because our several projects demand different actors or participants: government, funding, companies, designers, consumers, etc. No matter what you do, you always need an ensemble of people.
What do you think are the weak aspects of this issue?
Unfortunately, there are lots of them. One is the "prostitution" of the term sustainability with its use as marketing. Then, there is a lack of knowledge in this matter. We have to classify and tell each term apart. Firstly, there's ecological fashion, which uses organic or noble materials, or a recycling technique; but has nothing to do with the social aspect and doesn't have a complete vision. Ethical fashion has a focus on social issues: the workshops, the weavers, etc. Knowing that fashion industry is slave-driving, ethical fashion pays special attention to the social welfare. Finally, sustainable fashion reunites both of the previously stated and more. It has a strong interest in the environment, in the product cycle and its print in the planet, a timeless design that stands the test of time avoiding the industry of "using and throwing away". It is truly complicated. Nowadays, if you want to create sustainable fashion, you have to work with social workshops and there's practically none.
The term "sustainable fashion" has become fashionable lately and companies that are situated in the opposed side of this issue take small measures to be able to use it as a marketing strategy. At least they are doing something, but let's not fool ourselves. As society, we can't believe that they are being fully sustainable. From the Forum, we don't condemn or denounce cases. We inform about the reality and the need to be conscious.
For big companies, this is purely marketing, but at the same time I think that helps to raise awareness at some level. However, we have to demand as consumers globally. We should ask for legislation that compels to show what's behind a label. For example, in Holland the industry works with trade unions. But everyone knows that clothes are not made locally in developed countries. Slavery is located in other parts of the world. In Holland, as I was saying, there's a lot of work done in this issue. However, 2 out 100 garments meet the criteria of ethical fashion in spite of the work of NGO's like WellMade, Made by, Sharewear etc. There's a lot of organisations, foundations and companies around this problematic, but it isn't enough. Just two out of 100 garments are "clean".
There's a long way to go in every part of the world and raising awareness amongst consumers is the essential part of what we are lacking. Consumers have the power to decide on what kind of world we live on. Having received the Consultative Status, I would like to dedicate special attention on working how to spread these real principles. There's potential in Latin American, but there's an enormous amount of work to do in networking and education, involving institutions, companies, governments and NGO's. Basically, we have to get together and have a debate around how to build a more ethical and sustainable supplier source. Locally, we should also have a sit in Argentina and discuss how to build good long-term practices and re-evaluate this ten years from now.
"Raising awareness amongst consumers is the essential part of what we are lacking. Consumers have the power to decide on what kind of world we live on".

Adriana Marina
How can one person become part of the Forum?
We have people that collaborate by writing articles, teaching courses, etc. Every single person came to us and played a part. The doors are wide open, whether you are a professional, have an institution or simply a project. Obviously, there's a relationship of trust on both directions. It is an open institution and hundreds of young people have passed by from all over the world. Many of them are students, from all universities. At the same time, we have some excellent volunteers. The same happens with Animaná: we have had many young interns from universities in London, Denmark, and other cities from the globe. It is really a laboratory!
What are the Forum's next steps?
We have applied to a patronage to form our permanent centre of education, so there would be people working full-time in teaching. We have a lot of new people that wants to collaborate lately, so I have to interview them. As a result, I am trying to figure out how to set a new work team to take a step forward. We applied to the patronage with an online school for Webinars and face to face courses. The idea is to upload all the material that we will prepare so that all interested persons have the information, no matter where they are, and for all educational levels: primary, high schools and universities.
In addition to this, we are preparing a magazine in e-book format to cover the entire issue: sustainability principles, what is ethical and sustainable fashion, what is a holistic model, what's happening in Latin America, what's going on in each country, good practices and ethical fashion company models in the region that have access to the market (which are scarce). Also, we want to launch a suppliers catalogue.
Another pending project is a documentary film. We have many associates, such as the Ethical Fashion show and many global benchmarks, who we have met at several conferences and love us. So, we want to interview them because they have a lot of experience in the field and we want to ask them about their vision, what they think are the solutions, how they think Latin American can become an efficient and sustainable supplier.
In pursuit of using creativity to create jobs and link spaces to the market; we have recently created a line of ethical gifts, such as products made of alpaca metal, onyx and other materials. There are personal and corporate options, for homes and desks. We created a wine box with humble people that collect cardboard in the streets as a living. It is as a suitcase that works as a cellar, to keep several bottles inside, has a lid that turns into a tray and includes other articles of your choosing, such as ceramic bowls, a knife, placemats, etc. There's also an alternative that incorporates an Animaná blanket. This action was thought as a way to establish a bond with companies to transform them into an active part of sustainability. As you can see, we use all aspects of creativity to press ahead with our projects.
What do you think is the future for sustainable and ethical fashion in the region?
I believe it depends on the work of institutions such as the Forum, working hardly in communicating the potential, bringing together governments and other organisations, paving the way because it's an almost unknown issue, it hasn't have much attention. It is terrible that our natural fibres are being exported as raw material from Argentina. The potential of this field and of the regional economics hasn't been acknowledged.
So, it relies on an institution that investigates and clears the path for others to have their own experiences and on governments that develops a favorable policy on this matter. Peru has done a great work with NGO's and companies. But it also depends on the international market, to accompany this process with a conscious consumption, such as the one we're proposing at Animaná. There are many ways to approach this issue, but it's worthier to buy a product with a history behind and a certain quality, rather than buying lots of things all the time.
It seems to me that there has been a movement lately. A certain movement had begun twelve years ago. The European Union had made proposals for a certain percentage of companies' purchases to be destined to ethical and sustainable suppliers. Then some crisis arrived (I can't even remember which one) and these kind of measures were forgotten. And now, there's more awareness from consumers. But only to a certain extent, because when it's time to reach for their pockets, you almost can't see it.
Nevertheless, considering the fact that sustainability is fashionable and a lot more people is talking about it, it implies that a brighter future is possible. In my opinion, to work with young people is to create the conscious and immediate consumers. So this is essential, to know how to reach them and show to them what their pair of jeans are made of, how they are created and what it involves. For instance, a worn-out pair of jeans: how the washing process is done, how much water it takes, the pollution it generates. Youngster usually let go after a few minutes, they say they don't want to keep supporting this model and ask where they can buy sustainable clothes. And then, that's where a whole other problem begins. In conclusion, I believe we have a market niche and a great possibility but there's a long way to go and we have to pave it.