American architect Frank Lloyd Wright designed more than 500 projects throughout his life, from Fallingwater in Pennsylvania to the Solomon R. Guggenheim Museum in New York City. Around 1923, he created the iconic Imperial Hotel in Tokyo, a monument that fused Mayan Revivalist pyramids and iconography with locally-sourced Japanese materials and woodblock patterns. 
This year, to mark the 150th anniversary of Frank Lloyd Wright's birth, the Imperial Hotel is honoring the legend with a series of exhibitions and experiences to reflect its architect's style and spirit. This celebration is titled "Imperial Times--Once and Future Legacies" and it runs through January 2018.
In June, they unveiled a new lobby lounge, designed by Japanese architecture firm Takemi Nishimoto. The lounge is a living museum of Frank Lloyd Wright's original designs and details. It features restored terra cotta tiles, china and glassware plus matchboxes and soaps that date to the opening of the hotel. 
Guests can toast Wright's birthday with a signature cocktail in the Old Imperial Bar (that appears to have not changed since the 1920s as it has been replicated from the same Oya stone and terra cotta walls that crafted the original version. One drink, a mix of dry gin, lemon and pineapple juices and egg white, the Mount Fuji, has been on the menu since 1924. 
And for a limited time, the Imperial Hotel will permit guests to book one night in the Wright Foundation-supported Frank Lloyd Wright Suite, which houses museum-quality FLW stained glass windows, volcanic stone reliefs,  and those distinctive Frank Lloyd Wright light fixtures. A lavish full-course breakfast prepared by Chef Thierry Voisin of Les Saisons is part of the package (available to Imperial Club members only), which costs ¥550,000 per night for double occupancy.
The hotel will also hold a number of other events coinciding with Wright's 150th anniversary, and sales of Wright-related accessories such as old fashion tumbler cut glassware; elegant, limited edition, original fountain and ball pens with 1923 Wright Imperial designs (on sale from July, 2017); commemorative postage stamps, as well as several edible items with Wright connections, in Gargantua, the hotel deli.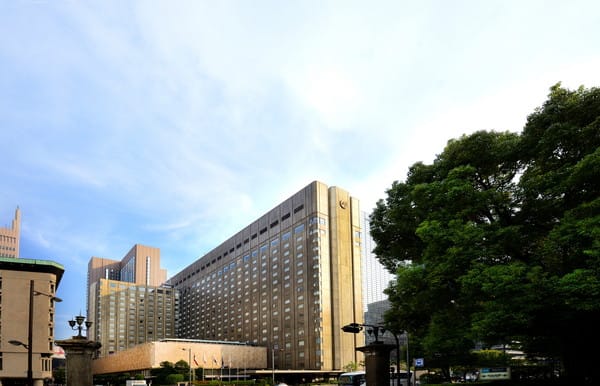 Only 150 pieces of the three distinctive pens featuring Frank Lloyd Wright Imperial Hotel designs have been produced and are available worldwide. Designed to become collector's items, a stock of fifteen are offered at Gargantua, on the Lobby Floor, with the fountain pen version at ¥25,000; the oil base ballpoint pen version at ¥20,000.
A selection of commemorative postage stamps created for the 150 anniversary of the birth of Frank Lloyd Wright are on sale at the Imperial Hotel in a limited edition of 1,000 sheets. The ten stamp sheets are ¥2,500 each.