CND Creative Nail Design constructs the most innovative nail art you can imagine. Professional to the highest degree, it seems they have no limits and are inspired by the prospect of highlighting the art of any designer's clothing.
The father of CND co-founder and style director, Jan Arnold, had a background in dentistry, which is partly what led to the discovery of the liquid and powder nail technique in 1979. The product, SolarNail™ Liquid, allowed for greater nail strength and flexibility, which was a revolutionary development in nail art. Among the products CND uses are RETENTION+® Liquid & Powder, BRISA® Gel, SPAPEDICURE®, SPAMANICURE® and SOLAROIL® Nail & Cuticle Conditioner. CND also creates unique designs by adding all kinds of materials to the nails; such as fur, stones, and even edible cookies in the case of The Blonds' Alice in Wonderland Collection. "We are highly focused yet we are committed to reinvention, and that's what creates sustainability for us", Arnold stated backstage at The Blonds' Fall/Winter 2016 fashion show at Milk Studios. She also says her team's work would be impossible without the advanced technology available today.
"We are highly focused yet we are
committed to reinvention,
and that's what creates
sustainability for us."
- Jan Arnold
 Around the same time Arnold began developing CND's nail art technique, she also started to notice that nails were not given much attention at fashion shows, due to designers' fear that they would take away focus from the clothes. CND now works closely with brands such as Libertine and The Blonds on shows where CND's work complements the clothing to perfection. It all melts into a balanced harmony. They have proven that nail art can be a statement for every piece of clothing, to the point of influencing the clothing itself. Eyes actually became a part of the Libertine collection because the designer loved the eye-inspired nails so much.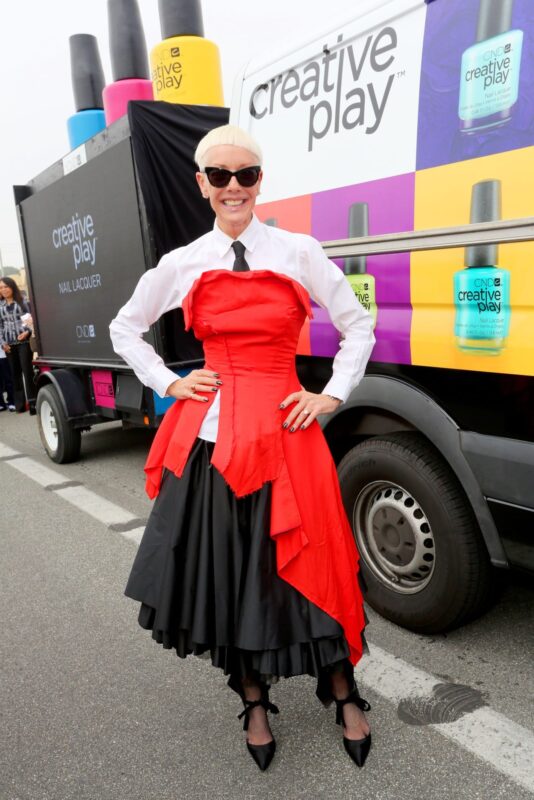 Arnold leads a handpicked crew, all of whom share her passion for  fine nail art. She credits her company's success to the deep love she and her team feel for their work. The CND Design team`s passion shines through so bright that you can't help but feel the enthusiasm radiated by these talented artists. It is unbelievable how they can build something as simple as a nail into something so beautiful using the tiniest three-dimensional details.
When asked what she would love her team to create that they  haven't done yet, Jan replied "fire" with a big smile on her face. At The Blonds' Fall/Winter 2016 show they accomplished smoke emitting from the nails, so fire seems like a natural next step.
CND also recently partnered with Advance Beauty College to celebrate the Vietnamese-American community's contributions to the nail industry at Orange County's annual Tet Festival and Parade.  It was there that they previewed their new product CREATIVE PLAY™ Nail Lacquer, which launches world-wide in April.
All the creative nails can be seen at cnd.com.